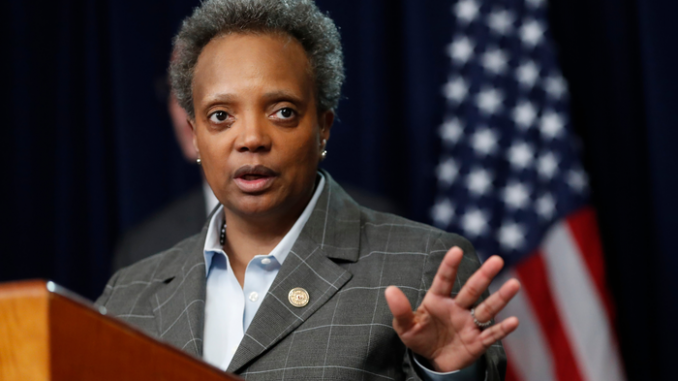 OAN Newsroom
UPDATED 8:28 AM PT – Monday, August 17, 2020
Chicago police arrested a protester on suspicion of looting amid ongoing violence in the city. On Sunday, the Chicago Police Department announced the charges of burglary and criminal damage against 20-year-old Aaron Neal who allegedly broke into an ATM during the latest protest.
His actions were reportedly caught on camera. Authorities said they have established a task force to analyze all video evidence of crime at Black Lives Matter riots.
"Felony charges have been filed against 20-year-old Aaron Neal of Chicago who stared directly into a cell phone camera smiled and brazenly went back to breaking into an ATM machine with a hammer early Monday morning," announced CPD Supt. David Brown.
Chicago Looter Goes On FB Live Trying To Break Into a ATM Machine. pic.twitter.com/Sr3L1PdlnB

— VideoMixtape.com (@VideoMixtape_) August 11, 2020
Chicago police have also expressed gratitude to city residents who brought the latest evidence of political violence and crime to their attention. The mayor of Chicago also responded to weekend demonstrations, which led to more than a dozen CPD officer injuries and dozens more arrests.
As the national unrest and calls for social justice continue in Chicago, Mayor Lori Lightfoot came to the defense of peaceful protesters as well as the city's police department. In an interview Sunday, she claimed it's the people who had come for a fight that were responsible for clashes with police.
"We obviously made 100 plus arrests that night, we're actively pursuing cases against others," she stated. "But we are determined to make sure we get to the bottom of this and bring those responsible for this organized crime effort to justice."
The mayor's words were in response to Saturday's protests where at least 17 officers and two protesters were injured while dozens more were arrested.
The CPD claimed the initial incident started when a protester attacked an officer with a skateboard. The department took to social media Sunday to post video footage showing what they called the incident that "sparked violence and arrests."
"Seventeen officers are being treated for non-life threatening injuries due to being assaulted and maced by skateboards, bottles, bicycles and other projectiles," said Supt. Brown.
Lightfoot commended the CPD by stating that officers acted "fairly quickly" in clearing the violent outbreaks.
"…We are absolutely not going to tolerate people who come to these protests looking for a fight, that are intending to injure our police officers and injure innocent people who've just come to express their First Amendment rights," the mayor stated.
City police are now working with federal officials to find the alleged instigators. In the meantime, 25-year-old Jeremey Johnson has been charged with felony aggravated battery for the skateboard incident.
Additionally, 24-year-old Nicoline Arlet was charged with theft of government property for allegedly taking a body camera off an officer's uniform.
Activist groups are now demanding an apology from both Lightfoot and the CPD for inciting violence. The groups are expected to hold a news conference, where they will express their concerns.