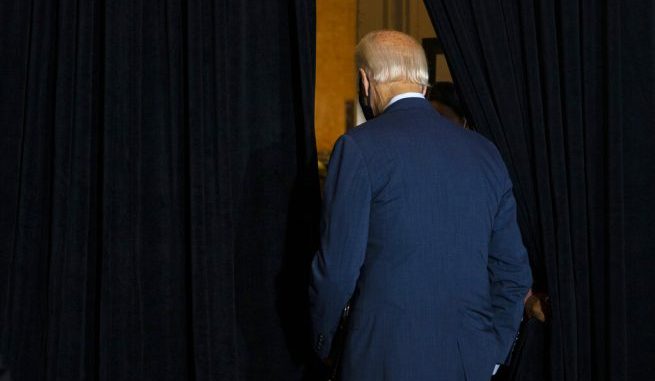 OAN Newsroom
UPDATED 11:45 AM PT – Saturday, August 15, 2020
The president recently blasted presumptive Democrat nominee Joe Biden for not taking questions from reporters. President Trump took to Twitter on Saturday to say "sleepy Joe never takes questions."
The former vice president has refused to take a single question in the past three days following his announcement of Sen. Kamala Harris (D-Calif.) as his running mate.
President Trump claimed reporters covering Biden have "zero drive" and questioned why the reporters who travel with him can't behave like that.
The president also shared a video of the Democrat's campaign staff stopping the press from asking questions at a recent event.
Very strange. Sleepy Joe never takes questions. Also, his reporters have zero drive. Why can't my reporters behave like that? Something is going on! https://t.co/SQAq0KVUqw

— Donald J. Trump (@realDonaldTrump) August 15, 2020
Biden has notably been called out by reporters themselves for not taking questions, including journalists from mainstream outlets like CNN and The New York Times.
The president commented on Biden's pick for vice president on Friday after a reporter questioned him on the matter. President Trump expressed he has no issue at all running against a strong woman of color.
"None whatsoever, as you know, none whatsoever," he said.
He also shot down allegations that he has been blunt when speaking about her. He added he's just been honest.
"No, I haven't been blunt. I said she treated Joe Biden worse than anybody else. I watched those debates. They were very boring, but they were debates nevertheless. …She treated Biden worse than anybody else by far. There was nobody, including Pocahontas, nobody treated Biden so badly as Kamala." – Donald Trump, 45th President of the United States
President Trump on Kamala Harris:

"She was very, very nasty to…Joe Biden. She was very disrespectful to Joe Biden." pic.twitter.com/ZoTRMdBLft

— Trump War Room – Text TRUMP to 88022 (@TrumpWarRoom) August 11, 2020
In a separate press briefing, the president was asked if he had heard rumors that Harris could be ineligible to serve as vice president because her parents were born outside the U.S.
However, he has stated he has no idea if that information is true.