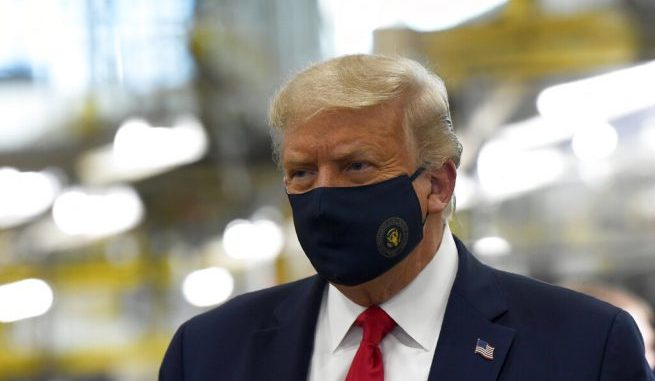 OAN Newsroom
UPDATED 9:25 AM PT – Friday, August 14, 2020
President Trump recently rebuked the presumptive Democrat nominee's call for federal enforcement of more stringent public health measures.
The president's comments came in response to Joe Biden's remarks during an event with running mate Kamala Harris in Wilmington, Delaware, during which the former vice president advocated the expansion of mask mandates and lockdown orders.
"Every single American should be wearing a mask when they're outside for the next three months at a minimum…every governor should mandate mandatory mask wearing," Biden stated. "The estimates by the experts are we'll save over 40,000 lives in the next three months, 40,000 lives if people act responsibly and it's not about your rights — it's about your responsibilities as an American."
While the president has supported the use of face coverings to the extent of calling the practice "patriotic," he sought to contrast his administration's approach to the pandemic to his Democrat challenger's by highlighting his view that fighting the disease need not come at the expense of personal freedoms.
President Trump also emphasized his belief in the importance of allowing decisions on public health measures to be made at the state level by pointing out different parts of the country have unique needs that a "one size fits all" federal response could make harder to address.
"My administration has a different approach, we have urged Americans to wear masks and I emphasize this is a patriotic thing to do," said President Trump. "But again, it's up to the governors and we want to have a certain freedom…that's what we're about."
Biden has been a sharp critic of the administration's handling of the pandemic, often claiming President Trump has failed to take sufficient action to stop the spread of the coronavirus.
The president fired back against these assertions by painting Biden's proposals as overly authoritarian. He claimed the Democrat candidate wishes to "bring the full weight of the federal government down on law abiding Americans" and that his policies would bring the economy to a halt to the detriment of families already struggling to stay afloat during the pandemic.
Moreover, President Trump argued Biden is being overly partisan in his proposals and is prioritizing a weaponization of the pandemic for the sake of gaining political capital over safeguarding the welfare of Americans.
"Today, we saw Joe Biden continue to politicize a pandemic and to show his appalling lack of respect for the American people," stated the president. "At every turn Biden has been wrong about the virus, ignoring the scientific evidence and putting left wing politics before facts and evidence."