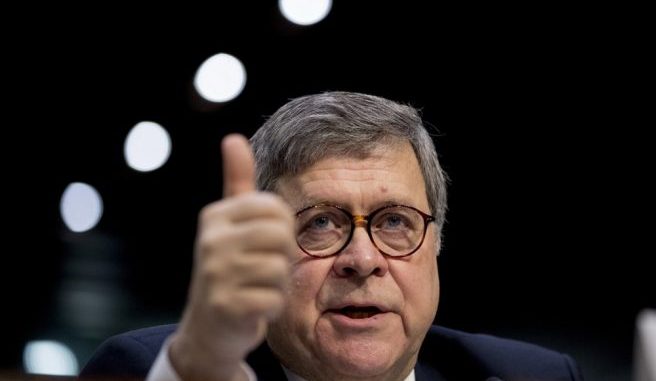 OAN Newsroom
UPDATED 7:46 AM PT – Friday, August 14, 2020
The Department of Justice has made an unprecedented bust to stop the funding of terrorist groups online.
On Thursday, Attorney General William Barr announced a total of four Facebook accounts, four websites and more than 300 cryptocurrency accounts linked to al-Qaeda, ISIS and Hamas were dismantled by authorities. Millions of dollars worth of cryptocurrency came with it.
Barr said this latest seizure was part of the Department of Justice and Treasury Department's efforts to "seize the funds and instrumentalities" of terrorists worldwide.
The operation was largely done online into a number of terrorist accounts and platforms, which were asking for bitcoin donations to fund their operations. Some requested funds under the guise of "soliciting for charity," while others promised the money would not go towards any violent causes.
One ISIS scheme authorities uncovered attempted to capitalize on the COVID-19 pandemic by selling fake personal protective equipment. The site facemaskcenter.com claimed to have unlimited stockpiles of surgical and N-95 FDA approved masks, which they were marketing towards U.S. consumers.
Global Disruption of Three Terror Finance Cyber-Enabled Campaigns https://t.co/tJUqyvQVsl

— Justice Department (@TheJusticeDept) August 13, 2020
Attorney General Barr said it should come as no surprise that our enemies use modern technology. The internet, social media and cryptocurrencies have been a longtime concern of top administration officials.
For instance, in 2019 Secretary of the Treasury Steve Mnuchin voiced the Treasury's concern over the proposal of Facebook's cryptocurrency called Libra.
"A Facebook subsidiary is announced that it is developing a cryptocurrency called the Libra," he stated. "The Treasury Department has expressed very serious concerns that Libra could be misused by money launderers and terrorist financiers."
Mnuchin said the IRS Criminal Investigation agency and the D.C. Cybercrimes Unit are working diligently to unravel these illegal terrorist financial networks.
Moving forward, Barr has vowed to "prosecute their money laundering, terrorist financing and violent illegal activities" as we move towards this new reality.