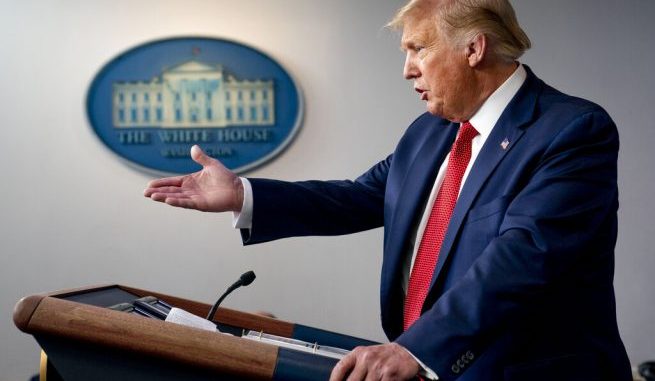 OAN Newsroom
UPDATED 11:12 AM PT – Tuesday, August 11, 2020
In a news conference on Monday, the president claimed the Democrat Party is trying to implement widespread mail-in voting for their own benefit. The president equated the Democrats' pursuit of mail-in voting in the upcoming elections to foreign interference.
"I'll tell you who's meddling in our election, the Democrats are meddling," said President Trump. "By wanting and insisting on sending mail-in ballots where there's corruption all over the place."
He and the Democrat Party have clashed on the issue of mail-in voting for several months now amid growing concerns about the impact the coronavirus pandemic will have on the election. President Trump, in the past, has also accused the Democrats of trying to steal the election by trying to relax voting regulations.
"Who would want a bill banning signature verification? What's that all about?" he asked. "You know what it's about? Fraud."
The Republican National Committee has challenged the implementation of lax voting requirements by requesting the intervention of the U.S. Supreme Court.
Another key concern for the president's campaign is the time frame of the presidential debates. The debates are set to start in late September, though some states such as North Carolina will begin sending out ballots earlier.
People close to the president, including Trump Organization executive Eric Trump, have argued the scheduling of the debates could benefit Joe Biden who he said is afraid and unprepared to debate the president.
"They're messenger is Sleepy Joe, he doesn't know its his message," said President Trump. "He has no idea what the message is, but he's going to do whatever they tell him to do, you know it, because he's not all there."
Although five U.S. states already perform full mail-in voting, critics have questioned the ability of the U.S. Postal Service to handle a full scale mail-in voting election.
It's still unclear as to what lasting effects, if any, the pandemic will have on the presidential election.