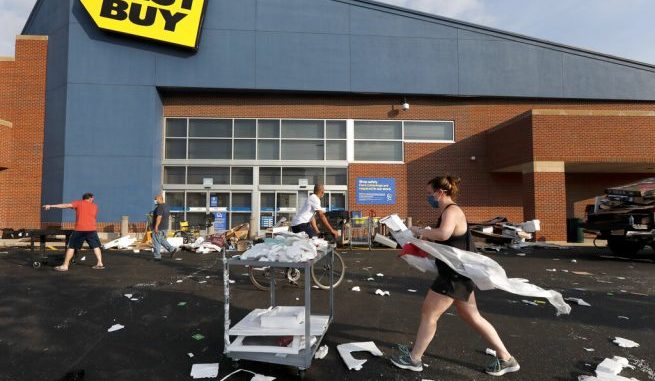 OAN Newsroom
UPDATED 11:27 AM PT – Monday, August 10, 2020
More than 100 people were arrested for disorderly conduct in Chicago as mass looting gripped the city in the early hours of Monday. At least 13 officers were injured in the mayhem, which reportedly began following an officer involved shooting in the downtown area.
On Sunday, police responded to reports of a man with a gun. When they approached, the suspect shot at police. This led to an exchange of gunfire that left the suspect and one officer injured.
Misinformation began to spread about the incident on social media, stoking public outrage. Soon after, the platform was flooded with posts encouraging looting and violence against police.
"Tempers flared fueled by misinformation…as the afternoon turned into evening TPD became aware of several social media posts encouraging looting downtown," said Supt. David Brown of the Chicago Police Department. "Officers were dispatched to our downtown area once we got word of the social media posts."
Just after the shooting, residents reportedly confronted and assaulted officers near the scene. One officer reportedly received a shoulder injury in the scuffle, another was allegedly maced and a brick was reportedly thrown into the window of a squad car. Two people were arrested in connection with that assault.
As day turned to night, hundreds of people turned to looting. Multiple stores were vandalized, which led Chicago Mayor Lori Lightfoot to issue a strong warning against rioters.
"What occurred in our downtown and surrounding communities was abject criminal behavior, pure and simple, and there can not be any excuse for it, period," she stated. "And to those who engaged in his criminal behavior, let's be clear, we are coming for you."
Despite the unrest, Lightfoot said she doesn't believe the situation requires calling the National Guard into the city.
UPDATE: Mayor Lightfoot joins CPD Superintendent Brown to provide update on overnight criminal activity. https://t.co/84k7ybMJuY

— Mayor Lori Lightfoot (@chicagosmayor) August 10, 2020
Bridges to downtown were left raised through the night in an effort to prevent looting. They will reportedly be left raised again into Tuesday morning. A curfew is also expected to be imposed.