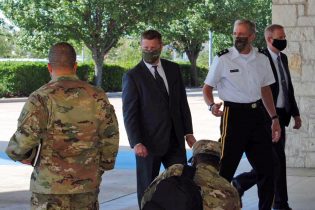 OAN Newsroom
UPDATED 4:55 PM PT — Thursday, August 6, 2020
Secretary of the Army Ryan McCarthy recently addressed how the Army is handling incidents involving soldiers at Fort Hood, including the case of Vanessa Guillen. After visiting the base in Texas this week, he announced he has appointed a panel to investigate how Guillen's case is being handled.
Arrived at Fort Hood yesterday to have a difficult conversation that was much needed. Not just about the loss of one of our own, SPC Vanessa Guillen, but how we can better take care of our Soldiers from all levels of leadership. Today was a step towards progress for the Army. pic.twitter.com/I1mPBDCfvA

— SecArmy (@SecArmy) August 6, 2020
According to McCarthy, the incident served as a catalyst for highlighting sexual harassment and assault in the military.
Guillen disappeared from the base in April and her remains were found in July. She was allegedly killed by a fellow soldier, who later committed suicide.
"I'm markedly disappointed and saddened by one of our own killing a teammate," stated McCarthy. "It takes a shot at the system, rattles the system of the trust you have to have in this profession."
Guillen's disappearance was one of five unexplained deaths that took place at the base in the past few months.
The Army secretary reiterated he is determined to get to the root of the issue.