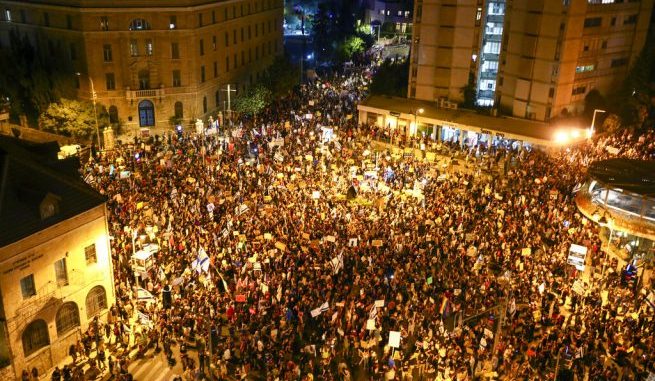 OAN Newsroom
UPDATED 2:35 PM PT — Sunday, August 2, 2020
Thousands of Israelis took to the streets in protest on Saturday over their prime minister's alleged corruption. An estimated 15,000 protesters gathered outside Benjamin Netanyahu's home this weekend, where they called on him to resign.
#Breaking -Thousands of Israelis on the bridges in #Israel. In Balfour,in front of his private home in Caesarea.All who have been instructed by the Emperor Kingdom of Balfour to obscure the intensity of the growing protest,because
This is?A REVOLUTON ?
pic.twitter.com/LrAj2g27uu

— GrandmomLiza (@GrandmomLiza) August 1, 2020
Netanyahu is facing an ongoing corruption trial, but has denied any wrongdoing and is determined to remain in office during the case.
Critics of the prime minister have described him as incapable of leading the country.
"It's one of the biggest demonstrations in Jerusalem since people gathered here to protest, to say 'We've had enough.' The prime minister is corrupt, he's not capable of leading. He's not capable of managing the country anymore because he's so much involved in what is going on with his trial, he's only centered in this." – Tamir Guy Tsabary, protester
The protest against Netanyahu continues and intensifies every day. The citizens of Israel are demanding the departure of the corrupt prime minister. pic.twitter.com/GcGGqYgS5s

— Yair Olmert 雅伊尔 奥尔莫特 ?(●'◡'●) (@olmertyair) July 31, 2020
In response to the demonstrations, Netanyahu tweeted out "don't drag the country towards anarchy, violence and attacks against the police."