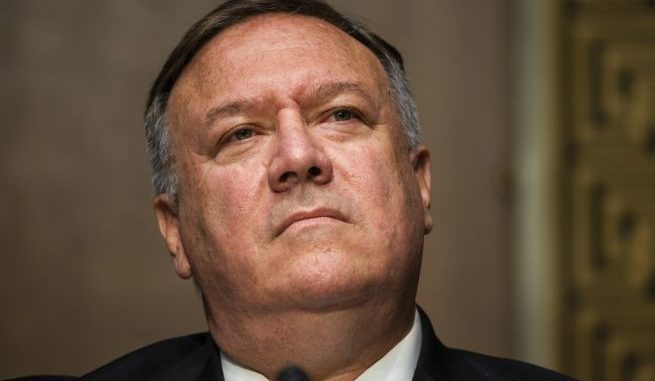 OAN Newsroom
UPDATED 10:47 AM PT — Thursday, July 30, 2020
Secretary of State Mike Pompeo appeared before the Senate this week for the first time since April 2019. He was slated to answer questions about the president's budget request for the State Department on Thursday.
.@SenateCommerce @commercedems hearing on China and U.S. Economic Policy – LIVE online here: https://t.co/VjbXND3ZtA pic.twitter.com/HFdvFhUZqf

— CSPAN (@cspan) July 30, 2020
However, Democrats seized the opportunity to criticize Pompeo and his decisions on foreign policy. Democrat committee members released a report on Tuesday, which accused him of poorly managing his department.
Pompeo has denied any wrongdoing and went on to highlight his work to rein in China.
"We've terminated special agreements with Hong Kong in response to the CCP's actions to deny freedom to the people of Hong Kong," he said. "We closed our consulate in Houston because it was a den of spies."
The secretary also suggested he asked Russia about claims the country paid bounties for U.S. soldiers. During the hearing, Pompeo emphasized he and his team have continued to warn Russian officials about all "issues that put Americans at risk."
"Anytime there was a tactical threat on the lives or the health of the safety and security or our assets in place, we have raised this with our Russian counterparts," he added. "…We've made very clear our expectations: they're not to threaten us in Afghanistan."
He also discussed the steps the U.S. has taken against the Russian government, including military action when Russian mercenaries targeted U.S. soldiers in Syria last year.
The secretary went on to defend the recent decision to remove U.S. troops from Germany, which President Trump announced earlier this week.
Exchange between @SenatorShaheen and @SecPompeo on withdrawing American troops from Germany.

Full video here: https://t.co/VCbwie2NCD pic.twitter.com/xSCPjOptZ9

— CSPAN (@cspan) July 30, 2020