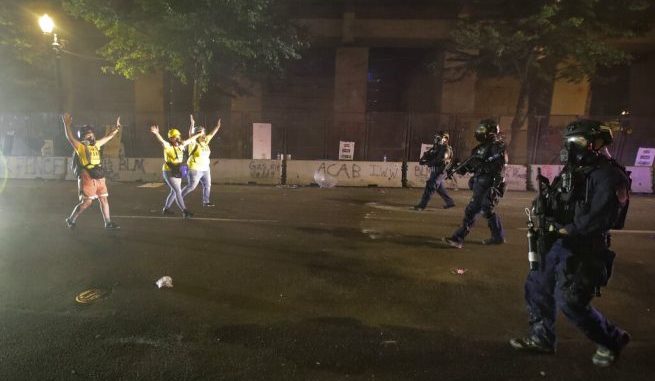 OAN Newsroom
UPDATED 3:06 PM PT — Thursday, July 30, 2020
Portland Mayor Ted Wheeler continues to oppose the deployment of Homeland Security Investigations amid violent unrest in his city. On Thursday, the Democrat leader accused federal agents of provoking violence rather than mitigating it.
"Progressive cities around the country are standing together to defend their communities against hostile and dangerous federal interventions," stated Wheeler.
The federal occupation of our community has brought a new kind of fear to our streets. Federal agents nearly killed a demonstrator, and their presence has led to increased violence and vandalism in our downtown core. https://t.co/dImlr5o6jw

— Mayor Ted Wheeler (@tedwheeler) July 29, 2020
However, the chief of Homeland Security has pointed out Portland had already experienced more than 40 days of violence before agents were deployed.
"For two months as rioters attacked federal officers and buildings in Portland, we called on local leaders to do their job and work with us to quell violence. Finally OR is stepping up. DHS surge forces will stay until we know our officers and facilities are safe." – Chad Wolf, Acting Secretary of the Department of Homeland Security
Despite this, Mayor Wheeler continues to insist he can restore peace in his city without federal help.
"It's not going to just be about policing strategies, that's not going to end this. It's going to be ended by the community coming together and saying the mass demonstrations that we've seen over many, many weeks, those demands have been heard. The demands have been understood." – Ted Wheeler, Mayor of Portland, Oregon
According to federal officials, those demands, including disbanding the police, are not helpful in maintaining law and order.