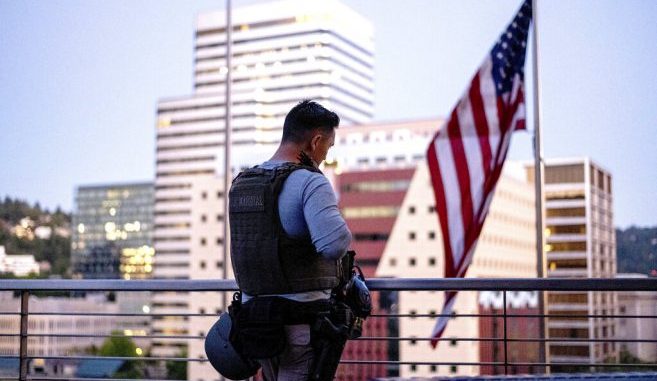 OAN Newsroom
UPDATED 5:50 PM PT — Wednesday, July 29, 2020
Local governments across the nation are preparing to receive federal law enforcement agents from the Trump administration's "Operation Legend." On Wednesday, U.S. Attorney for the Eastern District of Wisconsin Matthew Krueger confirmed "Operation Legend" will send 25 to 30 agents to Milwaukee.
The deployment will include agents from the U.S. Marshals Service, the FBI, the ATF and the DEA.
Operation Legend Expanded to Cleveland, Detroit, and Milwaukee https://t.co/u1QPAVcqom

— Justice Department (@TheJusticeDept) July 29, 2020
Krueger reassured the press the agents will not attempt to interfere with peaceful protests was careful to distinguish the Milwaukee efforts from those in Portland, Oregon. Additionally, Krueger announced the program will bring $12 million in to help local and state law enforcement.
The U.S. attorney also highlighted the need for federal assistance and noted a 75% increase in homicides in Milwaukee within the last year.
This came after Wisconsin Governor Tony Evers denounced the program and alleged the Trump administration never discussed the operation with him.
10 of the federal agents will be temporarily deployed to provide immediate relief, while the others will be stationed permanently.
"This shows that Operation Legend is a long-term, sustained effort, a real commitment to bringing down violent crime in Milwaukee," stated Krueger.
In Michigan, U.S. Attorney Matthew Schneider discussed Detroit's plan to receive federal agents as well. He acknowledged the importance of escalating the presence of law enforcement amid drastically increasing rates of crime.
"Homicides have increased in Detroit 31%. Shootings, where a person was wounded by gunfire, are up 53%. These numbers keep going up. This flood in violence threatens the safety of our communities and innocent bystanders are suffering." – Matthew Schneider, U.S. Attorney, Michigan Eastern District
According to him, "Operation Legend" has granted the local authorities $1 million to fight crime in the area.
"The United States Department of Justice will not sit on the sidelines while murderers spread violence in our neighborhoods," added Schneider. "We come together today, in the same way that we've done for many years, we identify violent criminals and we get them off the streets before they do any more harm."