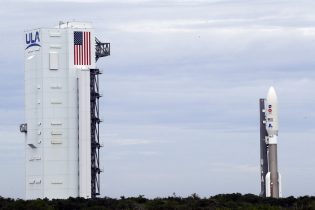 OAN Newsroom
UPDATED 2:30 PM PT — Wednesday, July 29, 2020
On Wednesday, NASA officials detailed the upcoming historic mission to Mars. NASA administrator Jim Bridenstine explained how the Perseverance Mars Rover was made possible by previous missions.
The Perseverance is scheduled to launch to the red planet on Thursday.
#CountdownToMars with me as I prepare for launch. Liftoff expected from @NASAKennedy on July 30 at 7:50 a.m. EDT. Click here for a reminder to watch live.

@NASA @NASAMars
@NASAPersevere
@NASA_LSP @ulalaunch
@NASAJPLhttps://t.co/3FEUNVqGZy

— NASA's Perseverance Mars Rover (@NASAPersevere) July 27, 2020
The rover will have seven months to explore and document possible signs of life in an ancient lake, which scientists believe may have existed billions of years ago on the planet's surface.
"This is the first time in history where we are going to go to Mars with an explicit mission to find life on another world, ancient life on Mars. Are we going to do that? We don't know, we don't know if life existed there or not. But we do know that Mars, at one point in its history, was habitable. We don't know if it was inhabited, but we know that it was habitable." – Jim Bridenstine, Administrator for NASA
The Mars 2020 Perseverance is part of larger "Moon to Mars" exploration, which will include missions to the moon to help prepare for human exploration of the red planet.
WATCH: NASA Set To Launch Mars 2020 Mission Next Week