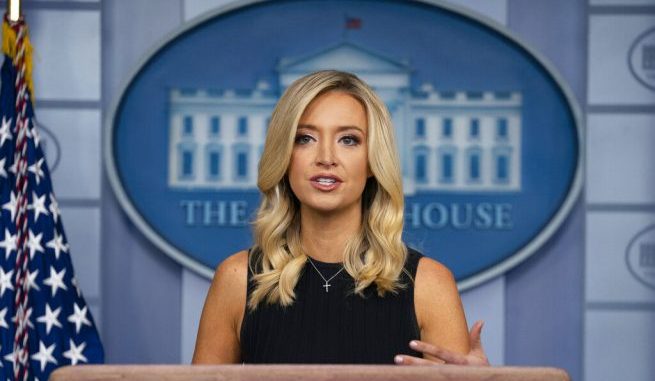 OAN Newsroom
UPDATED 1:01 PM PT — Tuesday, July 21, 2020
White House Press Secretary Kayleigh McEnany defended federal intervention in Portland, Oregon amid ongoing violent protests. During the press briefing Tuesday, she said President Trump will not give violence a pass and local authorities are not doing enough to stop it themselves.
Attacks on the court house and other violence called for President Trump to send Department of Homeland Security (DHS) officers earlier this month. According to McEnany, the department is there to protect federal property from Black Lives Matter activists.
The press secretary criticized the local response to the crisis by saying Mayor Ted Wheeler's false statements about the federal intervention is not helping quell the violence.
McEnany also noted that the president encourages local leaders to work cooperatively with the federal assistance as Kansas City did with 'Operation Legend.'
President @realDonaldTrump stands with law & order. We will not allow Portland to become the new CHOP. pic.twitter.com/Auts2VDhG3

— The White House (@WhiteHouse) July 21, 2020
The White House's hope is to prevent Portland from becoming another CHOP like the violent demonstrations in Seattle.
Meanwhile, Acting Deputy DHS Secretary Ken Cuccinelli alos defended the president's decision to deploy federal troops to Portland. He said local officials are politicizing violence in the city.
While speaking on this weekend's protests, the DHS official made it clear federal troops are in the city to create peace and protect federal property.
Cuccinelli also noted that after two-months of ongoing unrest, it's become apparent Mayor Wheeler is not doing enough to quell rioters. He also brushed off Wheeler's concern that federal agents are making violence worse in the city by calling the idea a "fake talking point."
Law enforcement officers have to be prepared to contend with violent, fake protesters who want to destroy America, not make positive changes.

— Acting Deputy Secretary Ken Cuccinelli (@HomelandKen) July 21, 2020