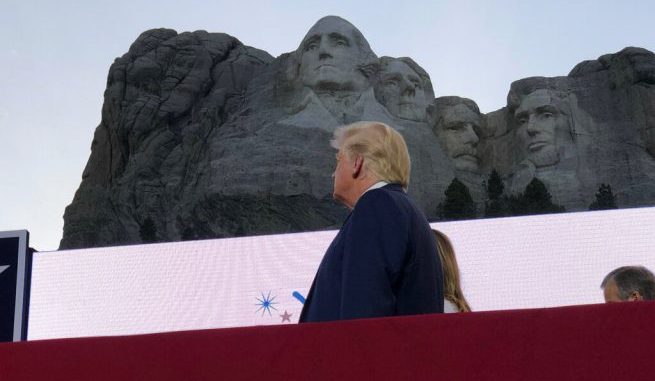 OAN Newsroom
UPDATED 7:59 AM PT — Thursday, July 9, 2020
Emotions are running on a '10' just days after President Trump made remarks over the Fourth of July weekend. It set off a media frenzy with one outlet going as far to say his speech was "fascist." Democrat senators even weighed in with Sen. Tammy Duckworth (D-Ill.) calling it "an ode to dead traitors."
In his Mount Rushmore speech, President Trump had warned that the country is under assault from "a merciless campaign to wipe out our history, defame our heroes, erase our values and indoctrinate our children."
His comments came after angry mobs tore down statues of the founding fathers, abolitionists and police that have put their lives on the line serving the country. White House Press Secretary Kayleigh McEnany defended those remarks stating:
"Misguided movements such as 'defund the police' seek to leave our communities more vulnerable than ever. Case and point, this weekend alone in New York there were 44 shootings with 11 killed. In Chicago 75 people were shot with 13 killed and tragically at least five of these individuals were children who were killed in cities across the country and we grieve for those families."
In an Oval Office interview Wednesday, the president told RealClearPolitics that he rejects the wave of a new "far-left fascism" and a "left-wing cultural revolution" that stands as a current threat to American civilization. He then called on Republican lawmakers to toughen up and get smart, otherwise "they're going to have a very tough election."
Some Republicans have pushed back on some of his past comments, including when President Trump slammed NASCAR driver Bubba Wallace for not apologizing after the FBI concluded that a noose-shaped pull-down rope in his garage stall last month was not evidence of a hate crime.
Has @BubbaWallace apologized to all of those great NASCAR drivers & officials who came to his aid, stood by his side, & were willing to sacrifice everything for him, only to find out that the whole thing was just another HOAX? That & Flag decision has caused lowest ratings EVER!

— Donald J. Trump (@realDonaldTrump) July 6, 2020
GOP strategist Doug Heye voiced that the president's rhetoric can turn some voters off, "but that's what he's banking on."
Meanwhile, Sen. Lindsey Graham (R-S.C.) told Fox News radio Monday that there are voices out there who are actually pushing for reform and are different from the ones just trying to stir up chaos and "remake America."