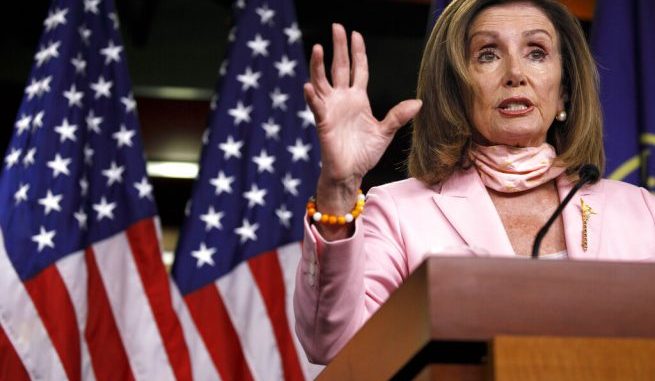 OAN Newsroom
UPDATED 2:00 PM PT —Thursday, July 9, 2020
Nancy Pelosi has shrugged off concerns over the destruction of historical monuments in America. During a recent news briefing, the House speaker appeared to brush off a question about the Christopher Columbus statue in Baltimore, which was toppled and thrown into the harbor by protesters.
"People will do what they do," she said.
#Pelosi is an evil menace to the US
Asked BY Reporter Abt Statue removal she says "Ppl will do what they do"
By the shrug of her shoulders & her lawless comments & actions she is SANCTIONING destruction & her type of revolution! She MUST be called outpic.twitter.com/5gUQvXplIp

— ????????Lady De'Plorable???????? (@LadyRedWave) July 9, 2020
The House speaker suggested she "doesn't care much about statues."
"You know, I don't even have my grandma's earrings," she added. "I'm not a big, let's see what we have in terms of monuments in this."
However, Pelosi stated protesters could have got injured while toppling the statue. She acknowledged demonstrators should have forced the city to take it down instead.