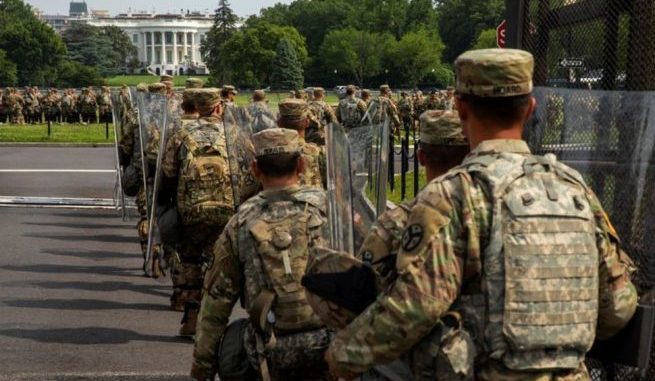 OAN Newsroom
UPDATED 1:21 PM PT — Monday, July 6, 2020
The House Armed Services Committee unanimously passed its version of the defense budget for 2021. Lawmakers passed the$740 billion National Defense Authorization Act (NDAA) in a 56-to-zero vote on Wednesday.
The bill underwent a 14-hour mark-up session before reaching its final form in the House. This is just part of the already extended process of passing the defense bill this year as the coronavirus forced the House mark-up session to be postponed from its originally scheduled date in April.
Despite this delay, Democrat lawmakers in both the House and Senate reportedly used the recent nationwide "If there was ever a moment in America history to fundamental alter our national priorities, now is the time," said Vermont Democrat Sen. Bernie Sanders.
After much debate, the House bill includes a demand for the Department of Defense to rename bases and other military properties with confederate names within one year.
The Senate's version of the budget includes a similar policy, although it gives the Pentagon three years to make the change. However, President Trump has threatened to veto the NDAA if it includes this requirement.
This week, the Senate considers the 60th bipartisan National Defense Authorization Act.

The FY2021 NDAA:

✓ Provides for national defense

✓ Gives military personnel a 3% pay raise

✓ Keeps America ahead of China and Russia

???????? ???? pic.twitter.com/Vty17yrCfc

— Senate Republicans (@SenateGOP) July 1, 2020
The House bill also includes a ban on confederate flags on all defense properties. The committee also denied the amendment to curtail the Insurrection Act, which President Trump threatened to invoke at the peak of rioting last month.
Meanwhile, as the nation continues to grapple with the ongoing pandemic, the bill would allocate $1 billion to the Pentagon's pandemic preparedness fund.
Last year's fight over Pentagon funding being used for the southern border wall resurfaced and this year's bill puts a $100 million cap on emergency use of military construction funding for domestic projects.
The bill also includes an amendment to put limits on potential troop withdrawals from Africa, South Korea, Afghanistan and Germany.
This is expected to be the 60th consecutive year the bill is passed as lawmakers are responsible for outlining the national defense budget annually. Lawmakers in the House and Senate predict it will likely be months until the legislation makes it to President Trump's desk.