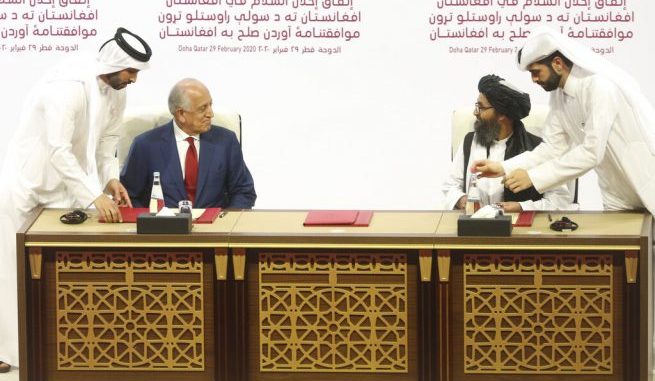 OAN Newsroom
UPDATED 2:25 PM PT — Saturday, July 4, 2020
The U.S. envoy to Afghanistan has signaled Washington's Taliban peace deal, which was signed in February, will now move forward. On Twitter, Zalmay Khalilzad revealed the status of the deal following his week-long tour, which included stops in Uzbekistan, Pakistan and Qatar where Taliban headquarters are located.
According to him, both the U.S. and the terrorist group have "agreed developing plans in support of peace can never start too early."
2/3 In follow on mtg w/ the Taliban, we underscored the econ development oppts that will follow a sustainable peace. We agreed developing plans in support of peace can never start too early, assuming the 2 sides can overcome final hurdles on the path to intra-Afghan negotiations.

— U.S. Special Representative Zalmay Khalilzad (@US4AfghanPeace) July 3, 2020
Khalilzad added the peace deal will offer many economic benefits. He further suggested joint projects involving Qatar and Pakistan could involve trade and infrastructure.
The latest push for peace comes amid uncertainty about the Taliban. The New York Times recently reported Russia offered bounties to the group's militants to kill American soldiers in Afghanistan.
Democrats have called for immediate action to be taken in light of these reports.
"I don't think there's anybody on this podium who does not believe that the Russians remain involved in a negative way in Afghanistan," stated  Rep. Steny Hoyer (D-Md.).
However, both the White House and GOP lawmakers have denied the report. They have claimed the intelligence it cited has not been corroborated.
"What's unfortunate is that we are having this discussion because of the New York Times deciding to run with this erroneous information about the president being briefed, which was not true," stated Press Secretary Kayleigh McEnany. "The erroneous information that there was a conclusion, when in fact there was not a conclusion."
In the meantime, President Trump has stressed he wouldn't be afraid to pull the Taliban peace agreement if the group breaks its promises.
"If bad things happen, we'll go back," he said. "We'll go back so fast, we'll go back with a force like nobody's ever seen."
Both the Taliban and Russia have denied the alleged bounties plot.