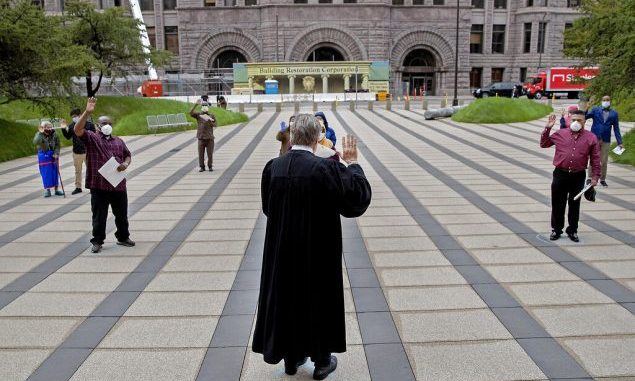 OAN Newsroom
UPDATED 1:25 PM PT — Wednesday, July 1, 2020
A union representing immigration judges has sued the Justice Department over a policy that prohibits judges from speaking publicly about immigration. On Wednesday, the Knight First Amendments Institute filed the suit on behalf of the National Association of Immigration Judges.
The institute claimed the speech restrictions on judges violate First and Fifth Amendment rights. If a judge were to violate the policy, they may face a range of disciplinary actions such as suspension or removal from federal service.
The policy was first enacted in 2017. Before that, judges reserved the right to speak on any issues relating to immigration as long as they clearly stated it was their own personal opinions.
"It's an incredible lack of respect and a lack of confidence in the judicial core," stated former Judge Lisa Dornell. "(It) undermines morale and the ability of judges to do what we have been charged with doing: provide due process of law to every person who appears before our court."
Attorney Ramya Krishnan has said they are filing the suit at a time when it is especially urgent for immigration judges' voices to be heard. Currently, judges are unable to speak about the effects of the COVID-19 pandemic on immigration courts and detained immigrants.