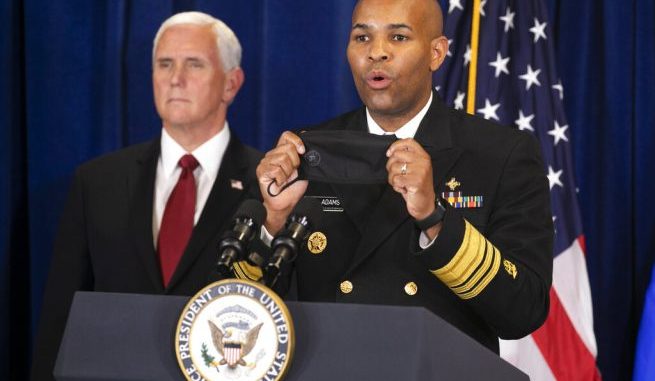 OAN Newsroom
UPDATED 7:16 PM PT — Wednesday, July 1, 2020
Surgeon General Jerome Adams has changed his story yet again in the latest attempt to impose the mandatory use of face masks. On Tuesday, he said the U.S. economy will not fully reopen unless all Americans wear face masks in public.
Back in March, the surgeon general urged people not to buy face masks and claimed they don't prevent coronavirus. However, Adams is now threatening to partially close the economy again if Americans don't wear them.
"It is not a suppression of your freedom, it actually is a vehicle to achieve our goals," he stated. "It adds to your convenience in your freedom because it allows us to open up more places and it allows those places to stay open."
Don't have a face covering? It's easy to make one at home with an old t-shirt, hand towel or bandana. Follow these easy steps ???? and check out @CDCgov for written instructions: https://t.co/hgs4vtppL0 #COVID19 pic.twitter.com/K4SQ6V6Xbn

— U.S. Surgeon General (@Surgeon_General) June 30, 2020
This comes amid bipartisan calls to wear facial coverings. Republican leaders are now urging President Trump to wear a face mask in hopes that he will set an example for the public and depoliticize the practice.
"Unfortunately, this simple lifesaving practice has become part of the political debate that says this: if you're for Trump, you don't wear a mask and if you're against Trump, you do," said Sen. Lamar Alexander (R-Tenn.). "That's why I've suggested that the president occasionally wear a mask, even though in most cases it's not necessary for him to do so."
The president has come under immense criticism for not consistently wearing a mask in public during certain briefings and events where he speaks.
President Trump and administration officials have often called the decision to wear a face mask a personal choice, but top Republican leaders are now ramping up their calls for Americans to wear them by arguing it is necessary to keep others safe.
The GOP is coalescing behind the issue amid nationwide spikes in coronavirus cases, following an attempt to reopen the nation's economy. Meanwhile, the president has responded to the surge in cases by recently canceling a campaign event scheduled in Alabama.
Members the White House task force, including Vice President Mike Pence, have continued to encourage the public to abide by CDC guidelines in order to get through the pandemic.