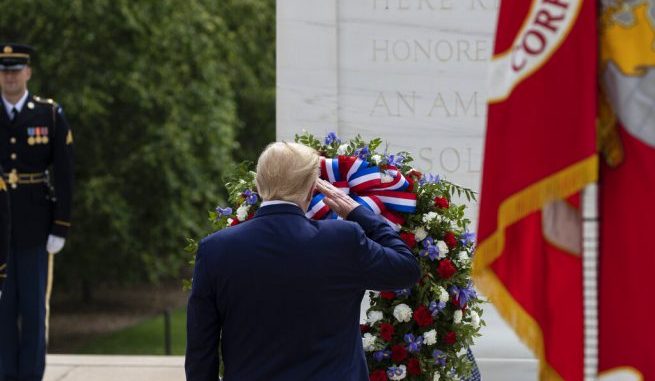 OAN Newsroom
UPDATED 11:14 AM PT — Monday, May 25, 2020
President Trump's campaign issued a statement honoring the nation's fallen heroes on Memorial Day.
On Monday morning, retired Army Reserve Lieutenant Colonel Tony Shaffer said, "these patriotic heroes will never be forgotten." He also noted the history of the sacrifice Memorial Day honors dates back to the opening shots of the American Revolution.
The statement ended with him stating that as our nation rises from the pandemic, we should join President Trump and the nation in honoring those who made the supreme sacrifice for our freedoms. Shaffer is a top member of the Trump campaign.
Meanwhile, President Trump attended a wreath laying ceremony at the Arlington National Cemetery. The silent event happened Monday at the Tomb of the Unknown Soldier.
— Donald J. Trump (@realDonaldTrump) May 25, 2020
The president was accompanied by First Lady Melania and a handful of officials. However, this year less people were in attendance and the crowd was spread out to observe social distancing guidelines.
President Trump looked on in silence and touched the wreath before departing for the Fort McHenry National Monument in Baltimore.
https://twitter.com/realDonaldTrump/status/1264906543516069894/photo/1