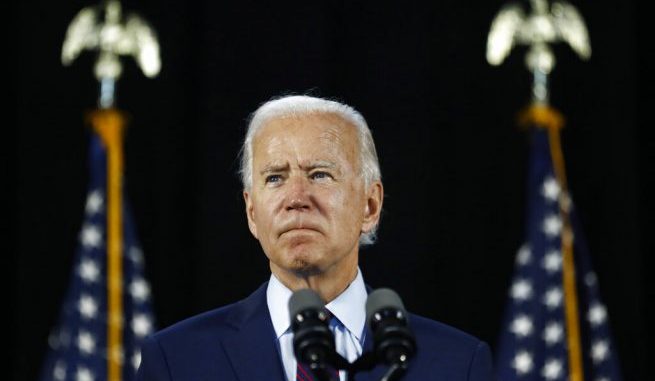 OAN Newsroom
UPDATED 11:45 AM PT — Sunday, June 28, 2020
President Trump has responded to criticism by presumptive Democrat nominee Joe Biden over recent alleged Russian bounty intelligence. On Twitter, he said Russia "ate his and Obama's lunch during their time in office so badly that Obama wanted them out of the G-8."
The president also claimed it was comical to see "corrupt Joe Biden reading a statement on Russia, which was obviously written by his handlers."
Funny to see Corrupt Joe Biden reading a statement on Russia, which was obviously written by his handlers. Russia ate his and Obama's lunch during their time in office, so badly that Obama wanted them out of the then G-8. U.S. was weak on everything, but especially Russia!

— Donald J. Trump (@realDonaldTrump) June 28, 2020
His comments came one day after Biden made comments of his own, in which he slammed President Trump over the recent New York Times article.
"His entire presidency has been a gift to Putin, but this is beyond the pale," stated the former vice president. "It's a betrayal of the most sacred duty we bare as a nation, to protect and equip our troops when we send them into harm's way."
BREAKING: Joe Biden just demolished Trump and his refusal to stand up to Russia. This needs to go viral! #TRE45ONpic.twitter.com/BEyh63kUIW

— Mrs. Krassenstein (@HKrassenstein) June 28, 2020
The White House has firmly denied being briefed on the classified assessment.
In the meantime, former National Security Adviser John Bolton has also called attention to the New York Times report. On Sunday, he attacked President Trump for saying no one had briefed him or his administration on the allegations.
"If the Russians have actually been paying to see Americans killed, that is a very, very serious matter," he said.
Bolton also somewhat confirmed the president's stance by explaining not all intel reports go to the White House.
"I tried during my tenure at the White House to read as much intelligence as I could. That doesn't mean I passed all of it on to Trump or to others. I think it's just important to understand there needs to be a filter for any president, particularly for this president." – John Bolton, former National Security Adviser