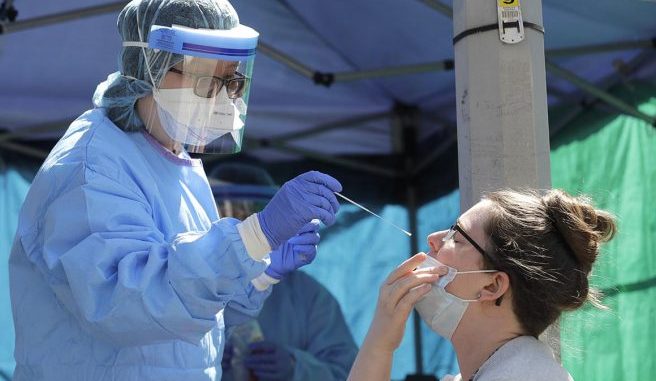 OAN Newsroom
UPDATED 11:43 AM PT — Thursday, June 25, 2020
As states continue taking steps towards reopening, local governments are looking at ways to avoid a potential second surge in new coronavirus cases. One of those possible solutions is contact tracing. The process can be used two ways to trace the spread of this virus.
A state can hire a group of tracers or health investigators who call people that were confirmed to have COVID-19. Officials then question them to figure out all the places they have been, so they can then notify others who may have been exposed. However, officials have said this process can be long and troublesome.
"I get people that lie all the time," said Maria Dicaro, a health investigator  in Salt Lake City, Utah. "I try to get as much information from the beginning, but it's just not always the case."
The other way is to use contact tracing technology on a phone app, which can track a person's movements and notify them if they came into contact with a person who was either exposed to the virus or tested positive. At least 22 states have launched some form of contact tracing phone app in hopes of curbing the spread in their areas.
"Now, as we attempt to transition to open back up our economy, we're simultaneously moving to this second initiative of testing, contact tracing and isolation of people who, in fact, are infected," said Washington Gov. Jay Inslee, (D). "We think of this as a smart weapon against this virus. "
However, states have seen glitches and other tech issues with these apps, in turn, making it less effective.
Apple and Google released a new update for the iPhones IOS system, which includes contact tracing technology. This means America's more than 100 million iPhone users will have access to the tech, which Apple hopes will help combat the pandemic by keeping track of coronavirus cases on a national level as opposed to a state by state basis.
Other countries like Australia and the U.K are also utilizing such technology and sound optimistic. Meanwhile, researchers have said it will take time to tell whether these applications are effective in fighting the spread of the coronavirus.
One thing we do know is personal hygiene and social distancing is a good way to flatten the curve.