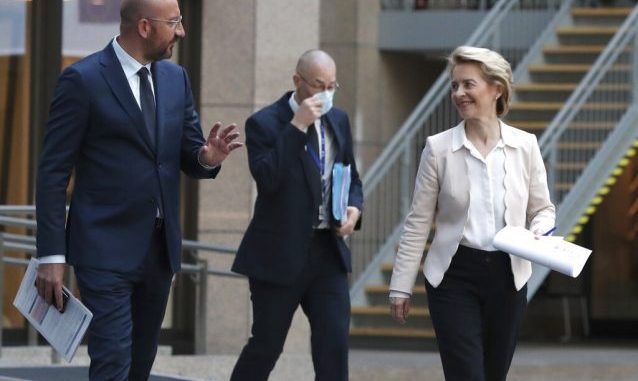 OAN Newsroom
UPDATED 7:52 AM PT — Tuesday, June 23, 2020
The European Union is pressing China to strengthen their trade relationship in hopes to move forward from the coronavirus pandemic.
During a teleconference Monday, EU and Chinese officials discussed several policies. Most specifically on the agenda was trade and security.
EU officials demanded more access to Chinese markets while fearing the phase one China and U.S. trade deal discriminated against European companies.
They also blasted China's national security law aimed at tightening control over Hong Kong and urged them to operate at a higher standard.
"It is completely okay to exchange different views and to have different standpoints, but we expect now to step up and to lift the negotiations that so far have been on a very low level to a higher political level," stated Ursula Gertrud von der Leyen, President of the European Commission. "…that we really see the dedication to have at the very end an investment agreement."
It's not possible to shape the world of tomorrow without a strong #EUChina partnership, but it's also time to accelerate on the crucial areas of our relationship. As the EU, we're committed to making swift, substantial progress & count on ????????China to match our level of commitment. pic.twitter.com/CqdWCL4nO3

— Ursula von der Leyen #UnitedAgainstCoronavirus (@vonderleyen) June 23, 2020
While the two sides did not come to a concrete agreement, they hope the discussion laid the groundwork for future negotiations.