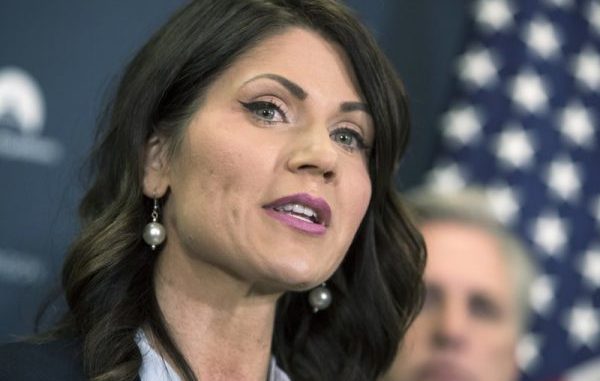 OAN Newsroom
UPDATED 9:25 AM PT — Monday, June 22, 2020
Tensions between Native American tribes and the federal government are growing over the handling of the coronavirus pandemic.
Tribal governments have used their sovereignty to reinstate lockdowns and travel bans as their neighboring states begin to reopen. Native American leaders are concerned over the surge in cases and fear it could impact tribal members disproportionately.
Tensions in South Dakota have risen in recent weeks after its governor called on the White House to intervene in a stalemate between native tribe leaders and state officials.
Two tribes in the state have continued their traffic checkpoints to monitor highway traffic and contain the spread of the coronavirus despite warnings from Gov. Kristi Noem. On Wednesday, she wrote a letter to the White House requesting help to end the dispute.
We've been working for weeks to find a solution to the tribal checkpoints issue that respects both tribal and state sovereignty while following federal law.

Unfortunately, the tribes have continued to operate checkpoints on State and US highways. (1/6)

— Governor Kristi Noem (@govkristinoem) May 20, 2020
The Cheyenne River Sioux and Oglala Sioux tribes have had checkpoints up since the first week of April. They claim these areas are protected by tribal sovereignty, but Noem said the checkpoints are on state and federal highways. She also noted that they interrupt interstate traffic.
The governor previously threatened legal action against the tribes, but now Noem said she would like to pursue federal assistance in shutting down what she calls "illegal checkpoints."
"I asked the South Dakota attorney general to order an investigation into these checkpoints and that investigation, while it is still ongoing, has produced both affidavits and video recordings of these unlawful checkpoints that are in place," stated the governor.
Tribe leaders said reservations have insufficient medical resources to combat the COVID-19 virus and the precautionary measures they have in place are warranted. They said their focus is on keeping people safe during the pandemic.
Due to the high number of reservation members with underlying conditions, tribe leaders said they have the right to be vigilant when protecting their residents.
"And that is, for me, a sign of disrespect for a sovereign nation or another government agency," stated Julian Bear Runner, President of the Oglala Sioux tribe. "We have an inherent and sovereign right to protect the health of our people, and no one, man or woman can dispute that right."
Tribe leaders have asked those traveling to go around their reservation in order to avoid virus hot-spots, which allows the reservations to continue their stay-at home orders. Noem never issued such an order for the state to the criticism of tribe leaders.
The continued standoff now leaves potential for a legal fight, which Noem has claimed she is not opposed to. The Republican governor is currently investigating all tribes that have set up checkpoints.
Noem said this is not about the response to the pandemic, but about setting precedent on tribes' ability to shutdown traffic in other situations.