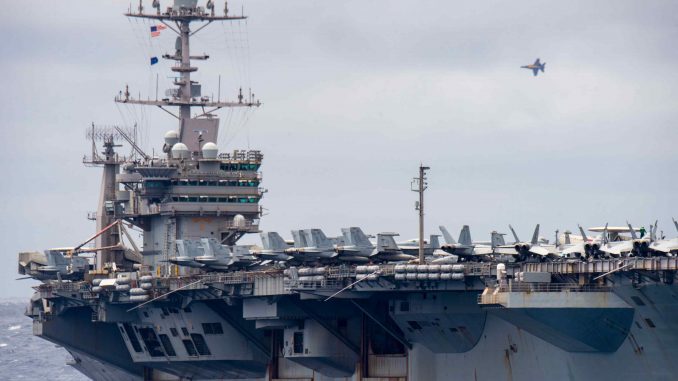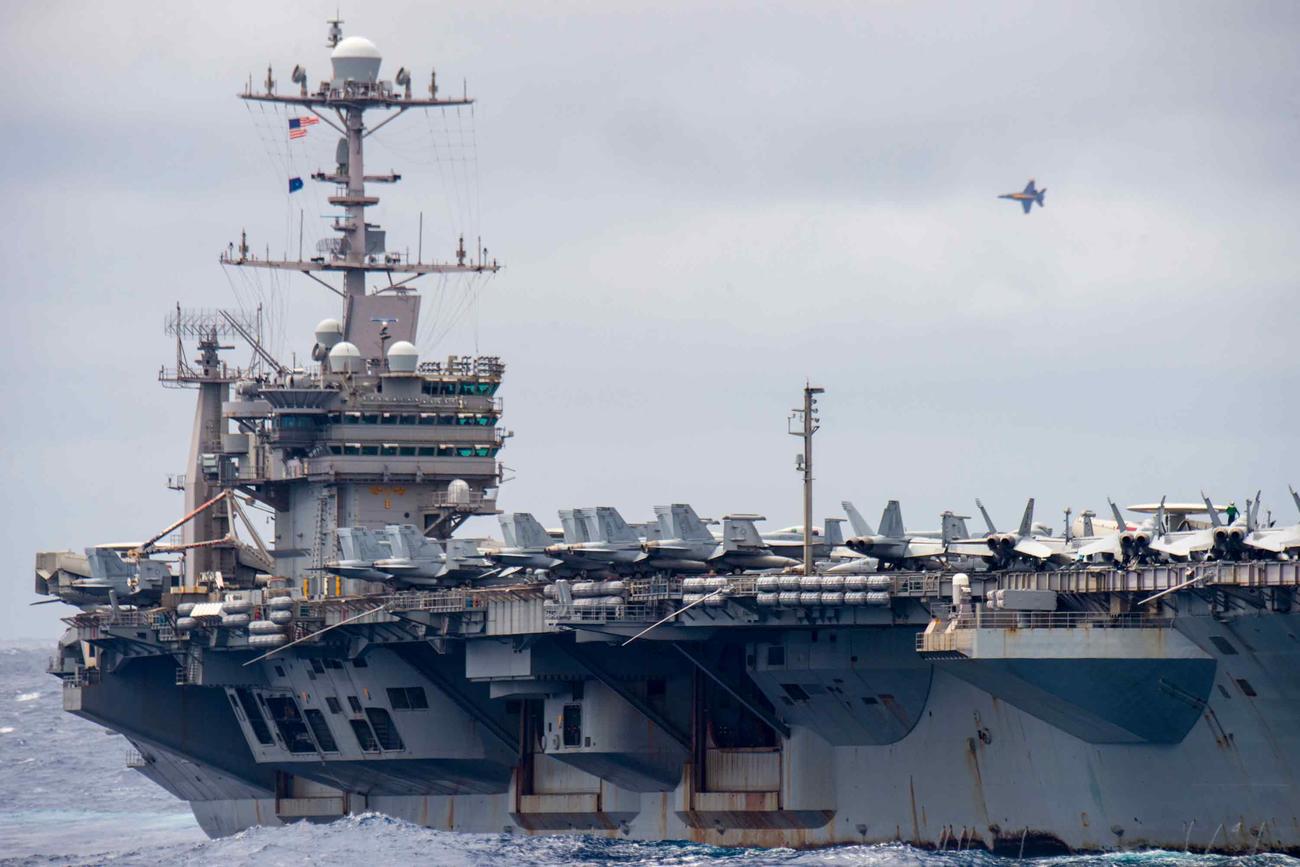 The Harry S. Truman Carrier Strike Group is wrapping up a lengthy deployment that left some ships at sea for nine months as they were called on to respond to everything from Iranian aggression in the Middle East to the novel coronavirus pandemic.
The guided-missile cruiser Normandy and guided-missile destroyer Forrest Sherman returned to the East Coast on Friday, along with aviators from nine Carrier Air Wing One squadrons. The Normandy and Forrest Sherman had been underway since September, when they deployed without the aircraft carrier Harry S. Truman as it underwent repairs.
Read next: Lightning Strike Injures 2 National Guard Members in DC
The Truman, which deployed in November, will return to Virginia in mid-June, Vice Adm. Andrew Lewis, commander of Second Fleet, told reporters Friday. The destroyers Lassen and Farragut, which broke off from the strike group to support missions in U.S. Southern Command, are headed back to Florida, he said.
"For nearly three years, Truman Strike Group has … [remained] operationally unpredictable to adversaries through multiple surface-action groups, Arctic operations, dual-carrier operations, and sustainment underway periods," Lewis said. "Time and again, this strike group has answered our nation's call."
The strike group has spent 16 of the last 32 months deployed. It was set to return in the spring, but the crews were notified their deployment would be extended so they could respond to crises as another carrier was sidelined in the Pacific due to the COVID-19 pandemic.
News of the extension came after the Truman had operated for months in the Middle East, alongside the Dwight D. Eisenhower Strike Group, amid high tensions with Iran. It marked the first time in years leaders had staged two strike groups in the region.
Navy Secretary Kenneth Braithwaite visited the Truman and Normandy this week, where he told the crews they'd be awarded the Meritorious Unit Commendation Ribbon for their deployment.
"This entire strike group deserves to be recognized," Braithwaite said. "For the rest of your service and the rest of your lives, you can look down at your service ribbons and remember this deployment for its distinct contribution to our national security."
Lewis said morale remained strong during the lengthy deployment because leaders were transparent and honest about the extensions. Lewis said Briaithwaite spoke directly to crew members during his stops this week about how they coped with the setbacks.
"Most of the answers were, 'We'd like to have more port visits' or 'We'd like to have known exactly what was going to happen over the next horizon,'" Lewis said. "But they understood why those things couldn't happen. They couldn't pull into port for a long time because [of] the environment that we're operating in."
After spending half of the last 32 months underway, Lewis said the Truman is approaching its maintenance phase. The strike group was able to make some major fixes to ships while underway, though, something from which he said the entire Navy can learn.
That includes fixing a steam catapult for aircraft aboard the Truman that typically wouldn't be fixed until the carrier was in the shipyard.
"They took all the pictures and went back and forth with the engineers and basically got the engineering approval to do those fixes," he said. "They did it themselves, and the catapult's up and running."
The strike group is returning to a different world than it left, as Americans not only grapple with the ongoing pandemic, but unrest across the country following the May death of George Floyd — a black man who died in police custody in Minnesota.
Lewis said he'll be going out on a listening campaign to hear what's on the minds of those in his command, as the country continues to see protesters in the streets demanding change. Division is unhealthy for the force, he said, adding that he'll also be encouraging subordinate commands to launch listening campaigns.
"We are a force that values and celebrates the differences that we have in appearance and background," he said.
— Gina Harkins can be reached at gina.harkins@military.com. Follow her on Twitter @ginaaharkins.
Related: Navy Cancels Carrier Homecoming Plans Amid Coronavirus Pandemic
© Copyright 2020 Military.com. All rights reserved. This material may not be published, broadcast, rewritten or redistributed.