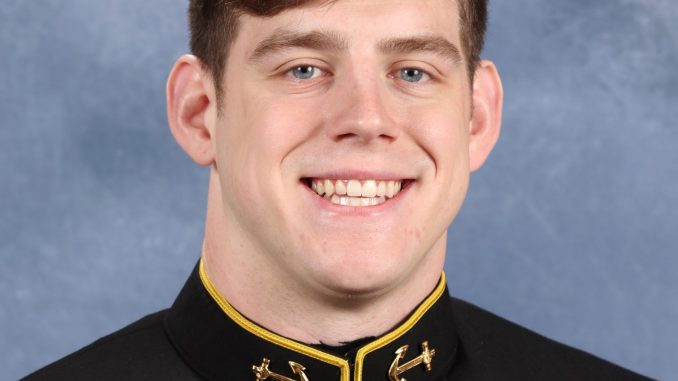 Former Navy football player David Forney died of cardiac arrest and natural causes, the state's medical examiner has concluded.
Charles L Gischlar, deputy director of media relations for the Maryland Department of Health, issued a statement after receiving the information from the Office of the Chief Medical Examiner.
"The cause of death for Mr. Forney is sudden cardiac death in the setting of multiple cardiac anomalies, and the manner of death is natural," Gischlar said.
Forney, a first class midshipman at the Naval Academy, had the heart attack on Feb. 20 in his dormitory room at Bancroft Hall. The 22-year-old Walkersville resident was found unresponsive by his roommates.
A CPR-certified midshipman administered resuscitation efforts at the recommendation of first responders en route to Bancroft Hall. Emergency services transported Forney to Anne Arundel Medical Center, where he was pronounced dead at 11:28 p.m.
Forney was a three-year letterman for the football team and played in 39 consecutive games over his final three seasons. The 6-foot-3, 305-pound lineman blossomed as a senior — starting all 13 games at left guard as Navy led the nation in rushing with an average of 360.5 yards per game.
Most Navy football linemen must lose considerable weight following their senior seasons in order to pass the Physical Readiness Test. However, Forney had received a waiver from the Naval Academy leadership allowing him to maintain his weight because he was auditioning for the National Football League.
At the time of his death, the first-team All-American Athletic Conference selection had been training diligently for the Navy Pro Day that was scheduled for March 26. He had dropped 17 pounds to get down to 298 in order to better prepared for the speed and agility drills the visiting NFL scouts would put the players through.
Forney's family learned the news earlier this week after finally receiving the death certificate from Kalas Funeral Home in Edgewater. Contacted by The Capital on Saturday morning, Rick Forney was surprised and somewhat disappointed the family did not hear directly from the Office of the Chief Medical Examiner.
"You would think we would have received a phone call or some paperwork from the medical examiner's office after the death certificate was issued," he said.
Rick and Erika Forney have been in regular contact with Barbara Moidel, developer of a unique program initiated by the Department of Defense. Moidel initially developed the Healthcare Resolutions program at Walter Reed Medical Center in Bethesda with the purpose of providing an avenue for doctors, patients and family to talk.
Forney said he and his wife plan to meet with Moidel once she is able to ascertain further details about their son's death.
"I don't know any more than you do at this point. We don't know exactly what 'multiple heart issues' means," Forney said. "Hopefully, we can get some specifics and find out what those anomalies are."
When David Forney was attending Georgetown Prep, Erika Forney had the family pediatrician perform a thorough physical with special emphasis on heart function.
"Erika had a complete workup done on David when he was in high school. She specifically wanted the doctors to check his heart condition because he was so big," Rick Forney said. "There was no reason whatsoever for us to believe David had any heart issues."
Considering the stress his son went through regularly during Navy football practices and games, Rick Forney wonders why the problem did not surface before.
Forney was the second Naval Academy student to die of heart-related issues during the spring semester of the 2019-2020 school year. Midshipman Duke Carrillo collapsed Feb. 8 during the last portion of the semi-annual physical readiness test. The 21-year-old sophomore was transported to Anne Arundel Medical Center where he was pronounced dead.
A spokesman for the Office of the Chief Medical Examiner said Carrillo's cause of death was dilated cardiomyopathy, and the manner of his death was natural. Dilated cardiomyopathy is a condition that makes the heart muscle weak and the heart chambers enlarged.
Dr. Vasundhara Muthu, a cardiologist at Baltimore Washington Medical Center in Glen Burnie, said the pumping function of the heart is reduced, which can lead to congestive heart failure.
A physical exam can pick up signs of congestive heart failure, but an echocardiogram — an ultrasound of the heart — is needed to diagnose it, Muthu told The Capital in March.
Prospective plebes undergo a physical examination prior to enrolling at the Naval Academy but are not required to get an echocardiogram.
"Maybe they'll start pre-screening midshipmen because of all this," Rick Forney said. 
This article is written by Bill Wagner from The Capital, Annapolis, Md. and was legally licensed via the Tribune Content Agency through the NewsCred publisher network. Please direct all licensing questions to legal@newscred.com.
© Copyright 2020 The Capital, Annapolis, Md.. All rights reserved. This material may not be published, broadcast, rewritten or redistributed.