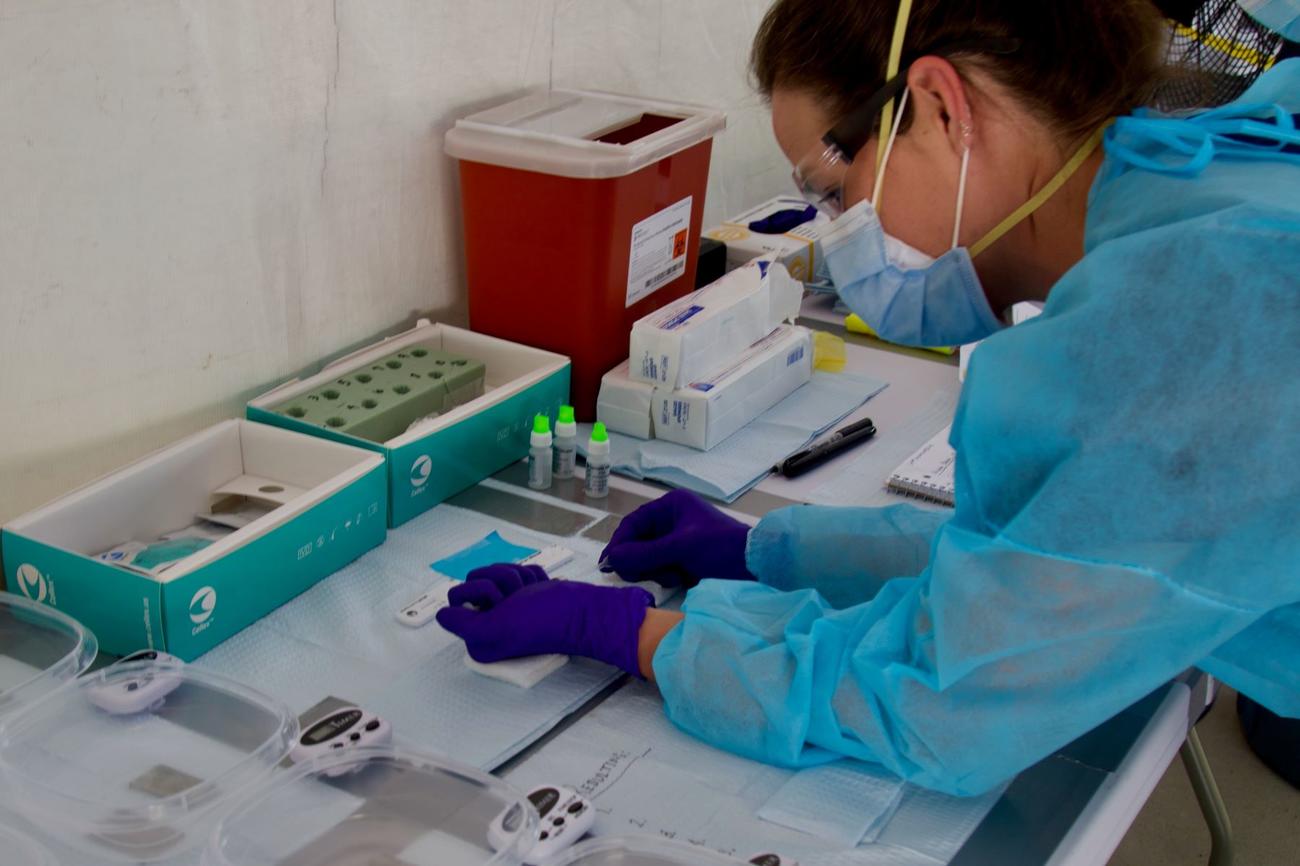 The military has begun testing troops for COVID-19 antibodies, and might soon ask them to "stick your arm out" to draw blood for possible use as a novel coronavirus therapy, Joint Chiefs Chairman Gen. Mark Milley said Thursday.
The Centers for Disease Control and Prevention has urged caution, warning that current antibody tests can yield false positives.
But the military is "doing some antibody testing right now, and we're expanding that," Milley said.
Read next: Air Force Scrubs 'Male-Only References' from its Official Song
"We'll be doing antibody testing for critical Tier One units, such as those who go into subs or the nuclear triad or some of our quick-reaction forces. So the short answer is, yes, for the antibody testing," Milley said at a virtual town hall meeting from the Pentagon.
He added that testing within the military might contribute to the development of what the CDC calls "convalescent plasma," made from blood drawn from people who have been exposed to COVID-19 and have developed antibodies to fight the virus.
"We may want to ask you to stick your arm out and donate blood," he said. "What that can then do is help others who are severely ill. And if we can do that, then we'll be on a good path toward getting some really powerful therapeutics."
Milley was joined at the town hall by Defense Secretary Mark Esper, who said Wednesday he has been tested for COVID-19 antibodies but does not yet have the results, according to The Associated Press.
Research by the government and commercial labs on the use of antibodies or drugs as therapeutics for the virus has been inconclusive or pointed to potential side effects, such as with the use of the antimalarial drug hydroxychloroquine.
On April 22, a panel of the U.S. National Institutes of Health recommended against the use of hydroxychloroquine for treatment of COVID-19 patients, saying more research is needed.
In an update on antibody, or serological, testing posted Wednesday, the CDC said that the results from current coronavirus tests may still yield false positives and be too inaccurate to be used in making policy decisions on lifting restrictions aimed on preventing the spread of the virus.
"Serologic test results should not be used to make decisions about returning persons to the workplace," it said.
However, more research on antibody testing could play an important role going forward, according to the CDC. "Serologic methods have been developed and will have important public health and clinical uses to monitor and respond to the COVID-19 pandemic," it stated.
— Richard Sisk can be reached at Richard.Sisk@Military.com.
Related: VA Has 'Ratcheted Down' Use of Hydroxychloroquine as COVID-19 Treatment
© Copyright 2020 Military.com. All rights reserved. This material may not be published, broadcast, rewritten or redistributed.