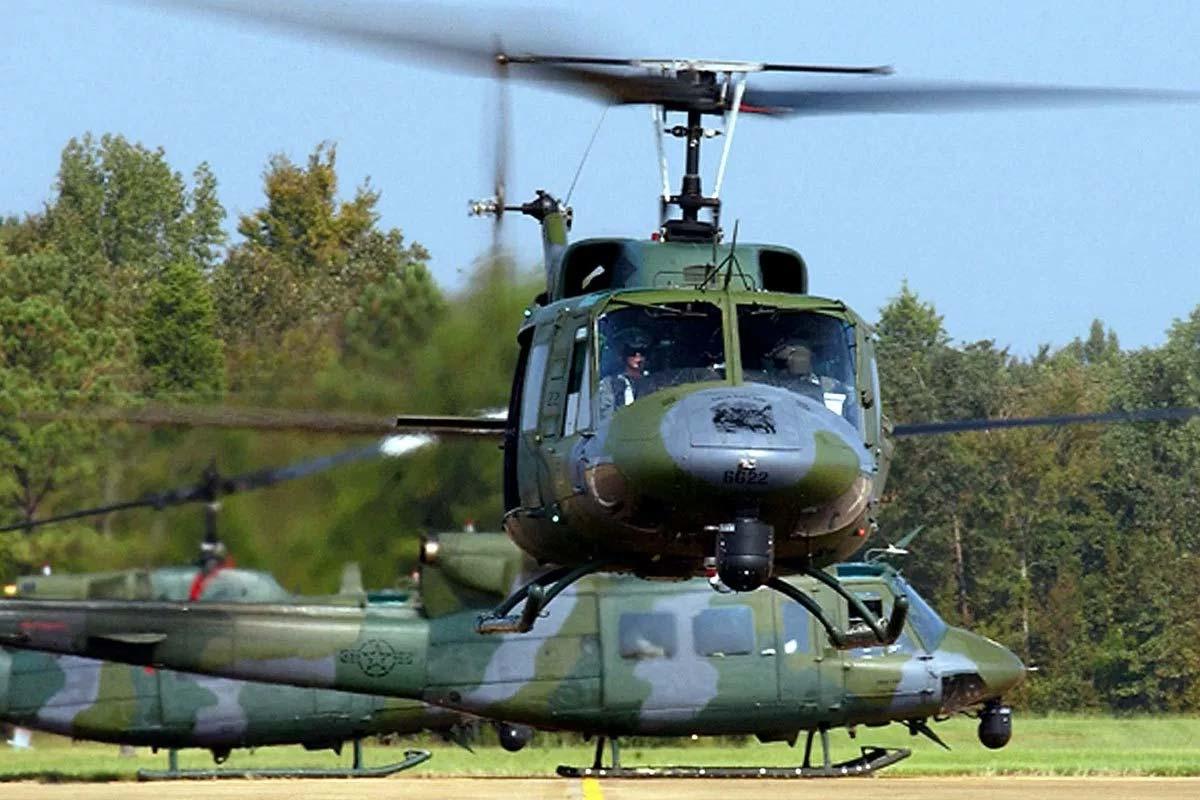 For more than a year, a giant American flag has stood in the middle of a 22-acre plot of land on U.S. 31, across the road from Grissom Air Reserve Base.
That property was purchased by the American Huey 369 Inc. in 2017, and it will soon be home to a new 30,000-square-foot building that will eventually serve as a one-of-kind museum, dedicated to one of the most iconic helicopters in the world.
John Walker, president and founder of the nonprofit organization, said construction should begin next spring on the building that will house the National American Huey History Museum.
The facility will include space for a living history museum and maintenance and repair hangar for the aircrafts, which first served during the Vietnam War.
But construction on the facility is happening much sooner than expected after the nonprofit learned the home of their temporary museum facility will eventually be demolished.
Since 2008, the organization has been housed inside a hangar located at 1697 W. Hoosier Blvd. in the Grissom Aeroplex business park, which sits directly beside the runway at Grissom Air Reserve Base.
Over the years, the organization has filled the hangar with three Huey helicopters that volunteers salvaged and fully restored, along with a small museum area dedicated to the aircraft. There's also a makeshift hootch-style hut, like the ones built for troops in Vietnam, that Walker and his wife use as an office.
In 2015, the organization launched a full-on fundraising campaign to construct a new $3 million museum on the property, located near the southeast intersection of U.S. 31 and Ind. 218 East. The campaign also aims to raise another $1 million that will be set aside to provide scholarships to students who have lost an active-duty parent.
Walker and his team raised more than $500,000 during the first two phases of fundraising, and have brought in nearly $800,000 more. In total, they've garnered nearly $1.4 million towards the $4 million goal.
Walker said the plan was always to start construction once the full amount had been raised. But that plan changed when he learned earlier this year that their temporary museum would eventually be torn down due to new Air Force regulations, potentially leaving them without a home to store and display their helicopters.
Jim Tidd, executive director of the Miami County Economic Development Authority, which owns the hangar in which the museum is located, said those new regulations mean eight buildings in the business park must all eventually be demolished.
He said the structures are located in the runway's "clear zone." In the past, the Air Force has allowed those buildings to stand. But new policies now require that the buildings be torn down because they're too close to the runway.
Tidd said the property on which the buildings are located will likely be given back to Grissom to use as part of the base.
"It's not like the Air Force is trying to kick us out tomorrow, but for the long-term benefit and safety of airfield operations, we're working to clear these buildings to help support the Air Force and its mission," he said.
Tidd said about half the buildings that must be demolished are occupied, and the county is now developing a long-term plan on how to relocate those tenants before tearing down the structures. But no demolitions will likely happen for years, he said.
"We are very much in the infant stages of this effort, and I don't know when this will happen," Tidd said. "It all depends on funds and timing and having some place to go for the entities inside these buildings."
Walker said, with the looming demolition of the hangar, the organization has decided to start building its new, standalone museum now. That will ensure they have a place to put their helicopters in case the demolition happens sooner than later.
"We said we would not build until we had our full goal raised," he said. "… But we want to get this facility up, first for those veterans who started this history in the first place, and second because we don't know how long it is before they want to tear down the hangar."
But funding will be an issue. Walker said he reached out to the around 600 core members of the nonprofit and asked anyone who could to donate $1,000 towards the project. That would give the organization around $1.9 million to put a down payment on the museum building.
He said the cost of the project will also be reduced, thanks to local companies such as excavators and electricians donating their services, or offering them at very low rates.
But although the nonprofit is moving ahead with constructing the museum, when it might actually open to the public is still a question mark.
Walker said the plan is to get the building up next year so they have a place to move their operational helicopters, and then continue to fundraise to complete the project.
"We're just going to keep reminding those that have given, and can give, that there's a sense of urgency here," he said.
Walker said they are also looking for a person or business that would be willing to donate enough money for the nonprofit to reach its fundraising goal.
"We've always been looking for that humble person who would love to have the museum named after them. That would happen if they brought us to our goal," he said. "Otherwise, we'll keep doing it the way we've been doing it — one person at a time."
In the meantime, the nonprofit has built a large storage barn on the property to house all the equipment and non-operating Huey helicopters. Walker said they currently have 14 aircraft and extra parts, several trailers and large pieces of equipment. Most of that is now stored in two buildings in downtown Peru or is sitting outside.
But although there isn't an exact timeline on when the museum will be finished, one thing is certain: Once it opens, it's going to be a huge asset to the area and the state.
Tidd said, with its location so close to the Grissom Air Museum, which is just up the road on U.S. 31, the new Huey museum will be the perfect addition to draw people from all over to learn about the nation's military history.
"It's going to be a great asset for the community and local tourism," he said. "They're carrying on the heritage of aviation that's occurred around Grissom, and that's fantastic. I'm excited they're moving forward and implementing their plan, and I think it will do great things for this region."
Walker said the fact the American Huey 369 group has evolved into a nonprofit with around 16,000 members is a borderline-impossible story that only happened because of hard work, combined with a good dose of luck and some divine assistance.
That's why after so many years of fundraising and building up a national following for the museum project, he's confident volunteers and donors will pull through to turn it into a reality.
"Because we started with nothing 16 years ago, it's hard to be nervous about all of this," he said. "Bottom line, it takes everyone to make this happen. All you can do is say the dear Lord wouldn't have brought us this far without a reason."
This article is written by Carson Gerber from Kokomo Tribune, Ind. and was legally licensed via the Tribune Content Agency through the NewsCred publisher network. Please direct all licensing questions to legal@newscred.com.
© Copyright 2020 Kokomo Tribune, Ind.. All rights reserved. This material may not be published, broadcast, rewritten or redistributed.