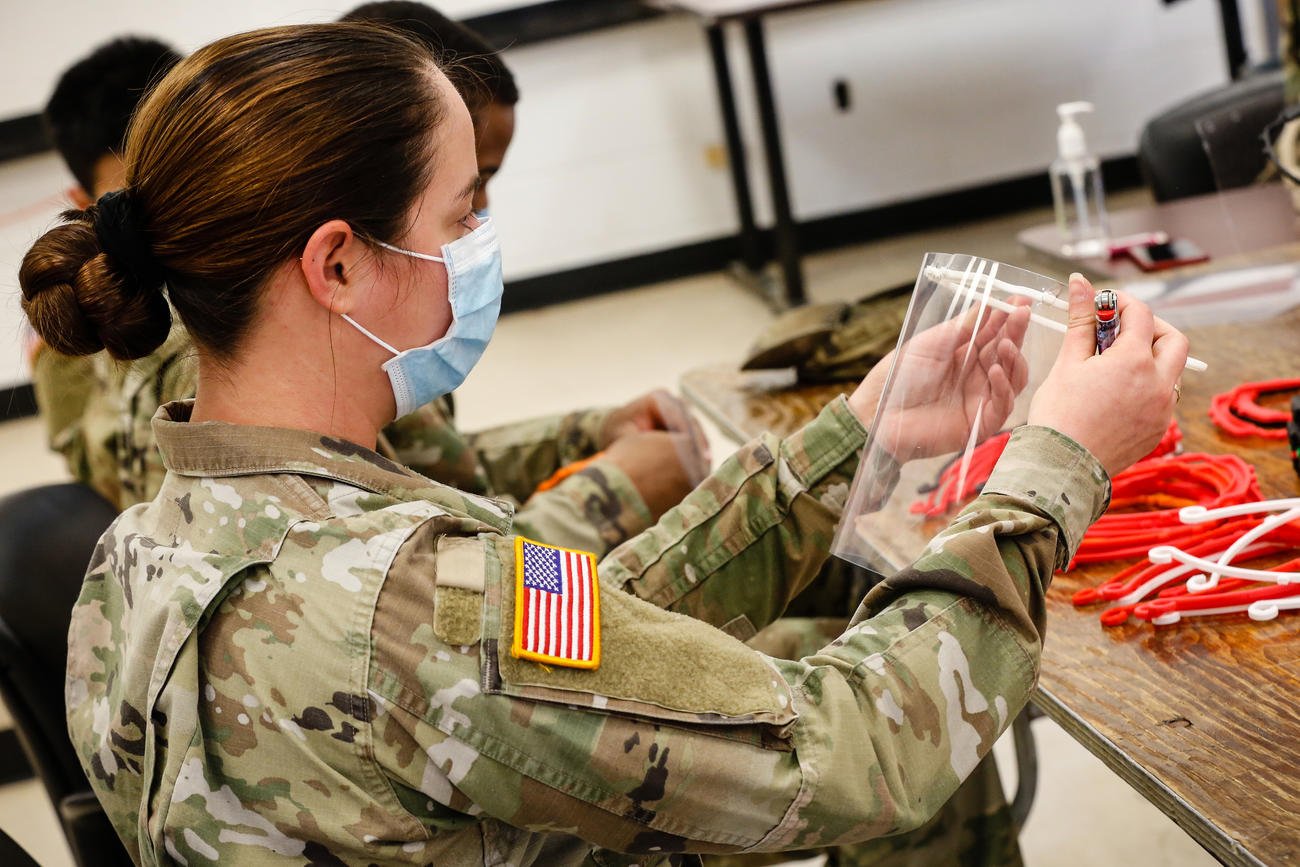 DURHAM — In an attempt to find new ways to improve COVID-19 contract tracing at Fort Bragg, the U.S. Department of Defense is asking young innovators to submit their own digital solutions for monitoring the fallout of the coronavirus pandemic.
In a partnership that brings together Fort Bragg and a North Carolina startup called MindSumo, the DoD's National Security Innovation Network (NSIN) is asking students from across the country for ideas on how to better automate identification and contact tracing of potential coronavirus patients.
"How do you reopen Fort Bragg? You've got thousands of folks down there, and a lot of them will be in close contact," Tommy Sowers, of NSIN, said in an interview. "It will be complicated. … Right now it is brute force, lots of phone calls and spreadsheets and a lot of manual tracking."
NSIN is an office within the DoD that looks for solutions to national security problems, as well as cultivating a network of innovators and entrepreneurs to focus on national security issues.
Sowers is in charge of NSIN's southeast office, which is based out of the American Underground in Durham. The challenge is being launched on a platform hosted by the Durham-based startup MindSumo, which is also based out of the American Underground.
MindSumo, which says it has built a community of 450,000 users, helps companies and organizations crowd source solutions to real-world projects. The platform is meant to help businesses find potential talent as well as potentially creative solutions to problems.
Sowers said that for a long time he has been wanting to work with MindSumo on a project, and the emergence of COVID-19 gave NSIN a pressing issue to center a crowd-sourcing effort around. NSIN will accept proposals until May 29. So far there have been 17 submissions, and top ideas can win cash prizes.
The coronavirus pandemic has shut down normal life across the country and in North Carolina, with the state seeing more than 12,000 cases in the past two months. Cumberland County, home of Fort Bragg and Fayetteville, has had 320 confirmed cases of COVID-19 and eight deaths, The News & Observer reported on Tuesday.
The fort, home to tens of thousands of troops, stopped releasing its own confirmed case numbers in March and limited the number of visitors to the military installation, The Fayetteville Observer reported. Fort Bragg's cases are included in the Cumberland County reports. In April, a civilian and a contractor connected to Fort Bragg died of the coronavirus, WRAL reported.
Col. John Melton, commander of Womack Army Medical Center at Fort Bragg, said that while Bragg has an effective form of contact tracting already, he sees value in getting fresh eyes on a pressing problem for public health.
"We are basically getting a lot of smart people to help us be more self aware," Melton said in a phone interview. "There is a saying that if everyone is thinking alike then no one is truly thinking. This is a great opportunity to leverage all these individuals looking at a problem in a different way."
Melton added that Fort Bragg has a "very robust" contact tracing team, with around 43 dedicated individuals for the task. The state of North Carolina, he noted, has around 250 contact tracers, though the state is currently trying to double its number of contact tracers to 500, The N&O reported.
Fort Bragg's situation is complicated by the fact that it exists within a large community of civilians as well. Not every soldier stationed at Bragg lives on base. So Fort Bragg works very closely with the public health departments in the surrounding area, Melton said, meaning whatever lessons the base learns it can share with the community, and vice versa.
"There are some opportunities from MindSumo that we could share, like other ways to reorganize contact tracing," Melton said.
Sowers said the current contact tracing procedures begin when a positive COVID-19 case has been identified. Then someone contacts that individual to obtain information such as symptoms, risk factors and recent interactions with other people.
Contact tracers follow up with the people who were in contact with the infected individual to obtain more info and give health guidance if they had been exposed, like self quarantining.
Sowers said he is hopeful that much of that manual process might one day be automated through technological solutions.
"It is really manual right now," Melton agreed. "And there just may be some opportunities with technology out there to capture the information."
Many digital solutions have already surfaced around contact tracing in recent weeks. Apple and Google are working on a system that would use cell phone data to alert people if they have been in contact with someone diagnosed with COVID-19. A team of Duke University students also created an app, called ContainIt, that would operate similarly.
Melton said he is eager to learn new insights from the MindSumo experiment, especially since this is a problem that will not be going away in the near future and could create new practices going forward.
He said despite the complications from COVID-19, Fort Bragg remains ready to meet any commands its receives.
"We are navigating through this, but rest assured we are ready for anything," Melton said. "We still have deployments and training but it is all within the COVID-19 environment."
This article is written by Zachery Eanes from The News & Observer and was legally licensed via the Tribune Content Agency through the NewsCred publisher network. Please direct all licensing questions to legal@newscred.com.
© Copyright 2020 The News & Observer. All rights reserved. This material may not be published, broadcast, rewritten or redistributed.