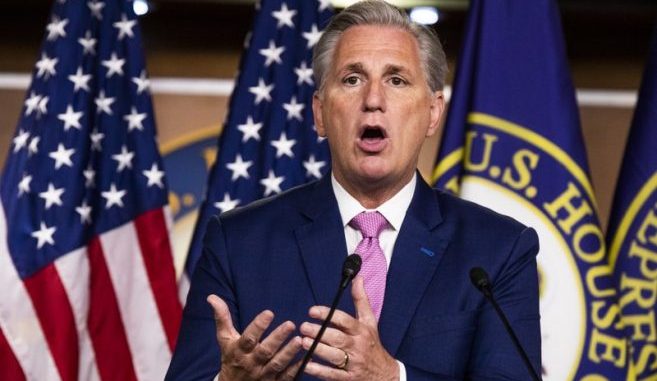 OAN Newsroom
UPDATED 7:23 AM PT — Thursday, May 28, 2020
House Minority Leader Kevin McCarthy (R) is ramping up criticism of so-called "proxy voting" by Democrats. The congressman said Wednesday, the U.S. Constitution mandates that lawmakers assemble in-person to serve their duty.
"This is unconstitutional what the Democrats are doing," said the California Republican. His comments came after Democrat lawmakers proposed to vote on legislation without gathering on Capitol Hill due to coronavirus fears.
However, House Republicans have said bills passed as a result of proxy voting are legally void and cannot become law. McCarthy added that the Constitution must be observed in the legislating process, regardless of circumstances.
"If the Democrats are successful in allowing a proxy vote to make their own rules, what's stops them from making the rules that only certain people can vote or certain members cannot have a full vote, a half vote, nothing?" he asked. "It is very clear in the Constitution, Article 1 all through, the House is supposed to assemble."
Another Democrat caught claiming he couldn't come to DC to vote "due to the ongoing public health emergency." But he was OK to attend a rocket launch.

It's the first day of Pelosi's proxy voting scheme, and it's already being abused by Dems to skip out on doing their jobs. https://t.co/QcQ24dpgGL pic.twitter.com/wi8tjdAdvz

— Kevin McCarthy (@GOPLeader) May 28, 2020
McCarthy stressed that House Speaker Nancy Pelosi is trying to impede the reopening of the U.S. economy by preventing Congress from legislating a way out of this crisis.