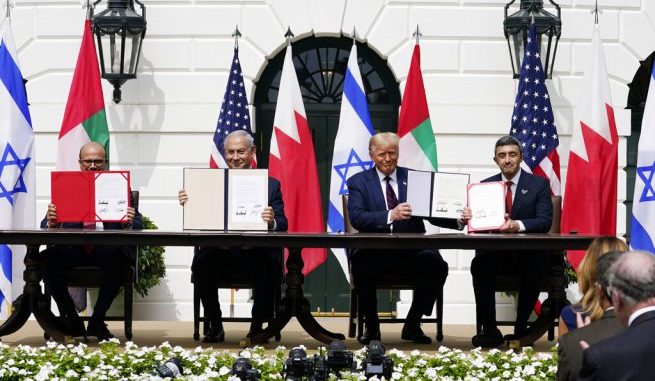 OAN Newsroom
UPDATED 11:53 AM PT – Tuesday, September 15, 2020
President Trump touted his brokered peace agreement for several Middle East countries Tuesday, while welcoming the foreign ministers of Bahrain and the United Arab Emirates as well as Israeli Prime Minister Benjamin Netanyahu.
During an Oval Office sit-down, the President gifted Netanyahu the key to the White House. He then told the prime minister, "this is peace in the Middle East without blood all over the sand."
Before the signing ceremony, President Trump honored the leaders for making this peace deal a reality.
"After decades of division and conflict, we mark the dawn of a new Middle East," he stated. "Thanks to the great courage of the leaders of these three countries, we take a major stride toward a future in which people of all faiths and backgrounds live together in peace and prosperity."
Today's historic signing proves that the nations of the Middle East are breaking free from the failed approaches of the past. pic.twitter.com/tlVIMPDtv4

— The White House (@WhiteHouse) September 15, 2020
The world leaders then signed the historic Abraham Accords, normalizing relations for the first time between Israel and two Arab states in a quarter century.
White House senior advisor Jared Kushner said we are already starting to see the beginning of the end of the Israel-Arab conflict. During an interview Tuesday, he said the normalization of relations between Israel, the UAE and Bahrain shows the President is bringing people together.
Kushner also noted President Trump's push for peace in the Middle East has been very well received in the region. He went on to suggest a resolution to the territorial dispute between Israel and Palestine will eventually be reached.
"With regards to the Palestinians, I think with time that will come, but what you are doing now is you're bring people together," stated the White House senior advisor.
Kushner also said President Trump doesn't chase deals, but rather makes deals when they are ready.