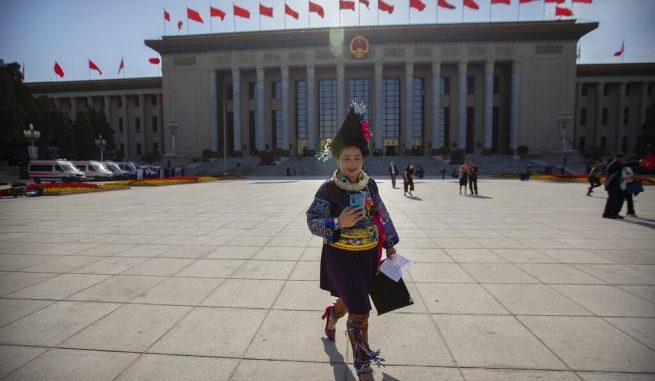 OAN Newsroom
UPDATED 10:30 AM PT — Thursday, May 28, 2020
A bill seeking to hold China accountable for its treatment of minorities is headed to President Trump's desk after passing in both chambers of Congress.
On Wednesday, the House of Representatives overwhelmingly approved bipartisan legislation imposing sanctions on Chinese officials involved in the suppression of minority Uyghur groups in China's Xinjiang province.
"Today in this House of Representatives, in a very strong bipartisan way, we are sending a message to the persecuted that they are not forgotten," stated House Speaker Nancy Pelosi. "We're saying to the president of China: you may tell these people that they are forgotten, but they aren't."
The bill was enacted in response to what the editors of the National Review have called China's attempt to "stamp out Uyghur culture, religion, language, all of it."
To this purpose, Chinese authorities have constructed a series of detainment camps, banned the practice of Islam and even enacted a program of ethnic replacement whereby men from the country's ethnic Han majority are reportedly sent to sleep in the same bed as Uyghur women while their husbands are imprisoned.
Offenses warrant imprisonment in what the Chinese establishment calls "reeducation" camps, where former inmates describe being subjected to forced political indoctrination and torture. This allegedly includes engaging in any practice connected to Islam up to the simple act of sporting a long beard.
"Whether it be the Muslim population of the Uyghurs, whether it be the Tibetan population who've been persecuted and the Dalai Lama who is an exile, to the Christians who are persecuted in China by the Communist Party — this bill will help hold the Chinese Communist Party accountable for their atrocities," stated Rep. Michael McCaul, (R) Ranking Member of the House Foreign Affairs Committee.
The bill would ask the president to revoke visas for any officials involved with the suppression of Chinese minorities, impose sanctions on their assets and compel the government to produce a list of companies who have benefited from contracts related to the program.
It's the latest in a series of recent U.S. government actions involving China. Also on Wednesday, Secretary of State Mike Pompeo certified Hong Kong can no longer be considered autonomous following the proposal of a new national security law by China's legislature.
Additionally, a separate bill has been introduced in the Senate, which would de-list Chinese companies from U.S. stock exchanges should they fail to follow American accounting disclosure regulations.
Peter Irwin, senior program officer at the Uyghur Human Rights Project, pointed out that the bill could provide a blueprint for other countries and blocs, including the European Union, to follow in pushing back against China's longstanding suppression of religious and minority groups.
"We stand with our founding fathers and what they stood for in fighting oppression and tyranny, and for democracy and freedom," said Rep. McCaul. "And that is why today we stand with the Uighur Muslim population, China and for all those listening in China."