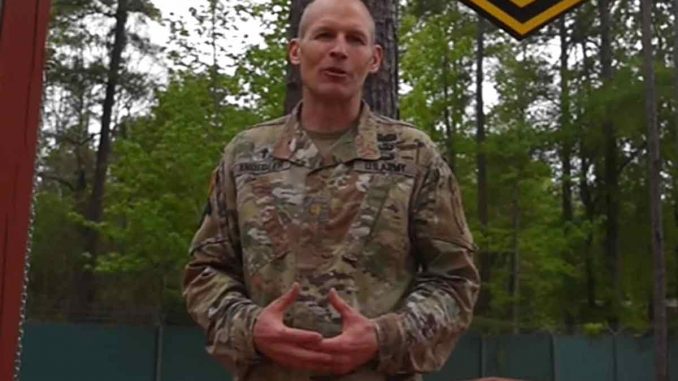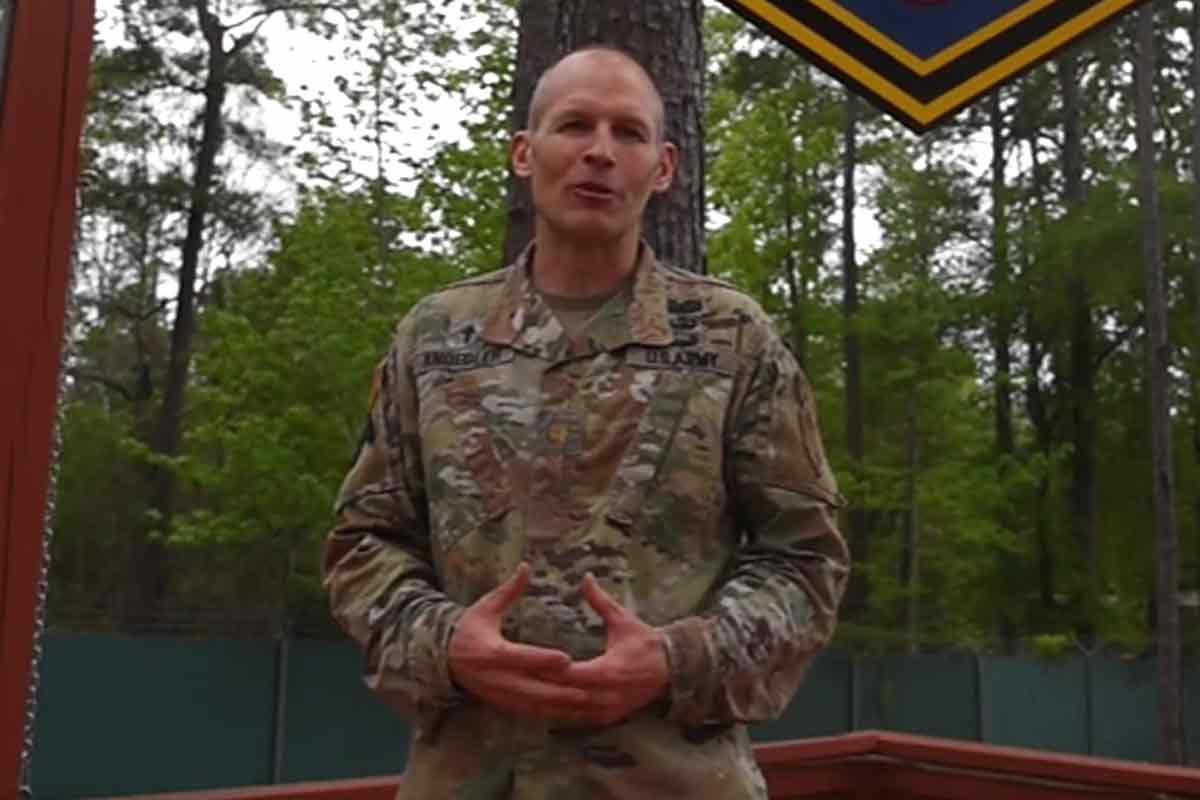 Army Ranger Chaplain Maj. Jon Knoedler walks across a narrow beam 35 feet above Victory Pond at Fort Benning, Georgia, to offer perspective to soldiers wrestling with the uncertainty during the COVID-19 pandemic.
During one of his Midweek Minute videos, he compares the height of the beam to the stress that the virus has injected into the lives of troops and their families.
Read Next: 'She's Doing Well:' Esper Discusses Young Sailor Who Took Down Corpus Christi Gunman
"Whenever you raise something that high off the ground, caution, fear, angst, stress, tension and body shakes can wreak havoc," said the Airborne and Ranger Training Brigade chaplain. "Even the toughest person, given abnormal circumstances, can freeze under pressure."
But in a steady, guiding voice, Knoedler reminds listeners to remember past tests that have shaped them as soldiers.
"Be confident in your abilities; you can do this," he said. "When you get to the point where you are about to break, take a deep breath and take one more step, even a small one."
Knoedler has made seven weekly videos so far, each presented in a nonsecular tone designed to relate the challenges of living under the restrictions of the pandemic to mental hurdles that many soldiers have experienced.
One is set on a land navigation course to drive home the experience of being lost in the woods, while another features Knoedler with a snake wrapped around his hand as he emphasizes the importance of "taming the tongue" to avoid the temptation to say hurtful things to loved ones during this time of heightened stress.
"A lot of my job is just walking around and being with soldiers and being with people. But during this time, it has been harder because there are so many restrictions," he told Military.com this month. "I think this is one way that kind of opens the envelope for more conversations."
Knoedler, 48, joined the Army as a chaplain in 2005 after working as a pastor for 10 years in Oregon. Over the past 15 years, he has embraced struggle and grappled with doubt, he said.
Knoedler experienced many low moments when navigating Ranger School at age 36. But he earned his tab, completing the punishing 62-day course on his first attempt — a feat that eludes most younger students.
"Every person who goes to Ranger School has their low times, and I had my fair share," he said. "Especially when a commander tells me, 'You have one shot to get through' … so every phase my back was against the wall, and there was some, you call them 'come-to-Jesus meetings.' I had few of those."
Knoedler also spent 2007 to 2009 in Iraq during the surge and deployed to Afghanistan multiple times between 2011 and 2019 with the 75th Ranger Regiment.
These are challenges that soldiers experience in everyday military life. But it's the unknowns of COVID-19 — the constraints that have put many lives on hold — that seem to affect soldiers the most, he said.
"In a very short amount of time, our world changed very rapidly," he said. "It makes us realize that we really don't have that much control."
So, with the help of some creative sergeants, Knoedler set out to put his message on Facebook, using familiar military training settings to get soldiers' attention.
"There are so many props around this brigade — it's airborne, it's Ranger; there are so many life lessons that can be [conveyed] with some cool props that we have," he said.
One brainstorming session led to a trip out to Ranger School's 35-foot log walk at Victory Pond.
"Then, someone says, 'Don't just show it, get up there,' and I'm like, 'Ah man, come on,'" Knoedler said with a chuckle. "And all of the sudden, it kind of morphs into more good ideas."
So far, the videos have reached around 25,000 viewers, many of whom have a connection to the training brigade, said Sgt. 1st Class Jeremy Billings, a spokesman for the brigade who edits the videos.
"It's just the message that they are really liking," Billings said.
Knoedler hopes the videos "give people another perspective, maybe a breath of fresh air."
"We try to make them no more than three minutes," he said. "I don't want to hear myself for that long, and other people don't want to hear me that long."
The Pentagon's global stop-movement order and strict social distancing rules have forced many soldiers to remain in assignments, and even in their homes, much longer than they have in the past.
"And that brings tension; it brings tension in relationships, it brings tension at home and at work," Knoedler said, who admits that he is not above allowing life's frustrations to get to him.
He remembers the time he spent longer than he expected to in a remote outpost in Afghanistan's Nangarhar province during the winter of 2011.
"It was my first deployment with the Rangers," said Knoedler, describing how he couldn't remember the codes to get into the locked buildings, even the latrine.
"I couldn't remember the codes, and I was freezing and feeling sorry for myself. So I went back to my hooch … and I was like, 'This is stupid.'"
After a brief chat with God, he said he realized it was another challenge he was meant to go through.
"From that point on, I just realized that, 'OK, every room I go in, every person I talk to is the person I am supposed to talk to at that moment,' and it changed my view," Knoedler said. "And if I am stuck in place longer than I want to — like that place, which was bitter cold and just not fun — I realized, 'OK, I am supposed to be here, and so the lesson … is wherever I'm at and whomever I'm with is exactly the place I am supposed to be.'"
— Matthew Cox can be reached at matthew.cox@military.com.
Related: SecDef 'Absolutely Confident' US Will Have a COVID-19 Vaccine by Year's End
© Copyright 2020 Military.com. All rights reserved. This material may not be published, broadcast, rewritten or redistributed.