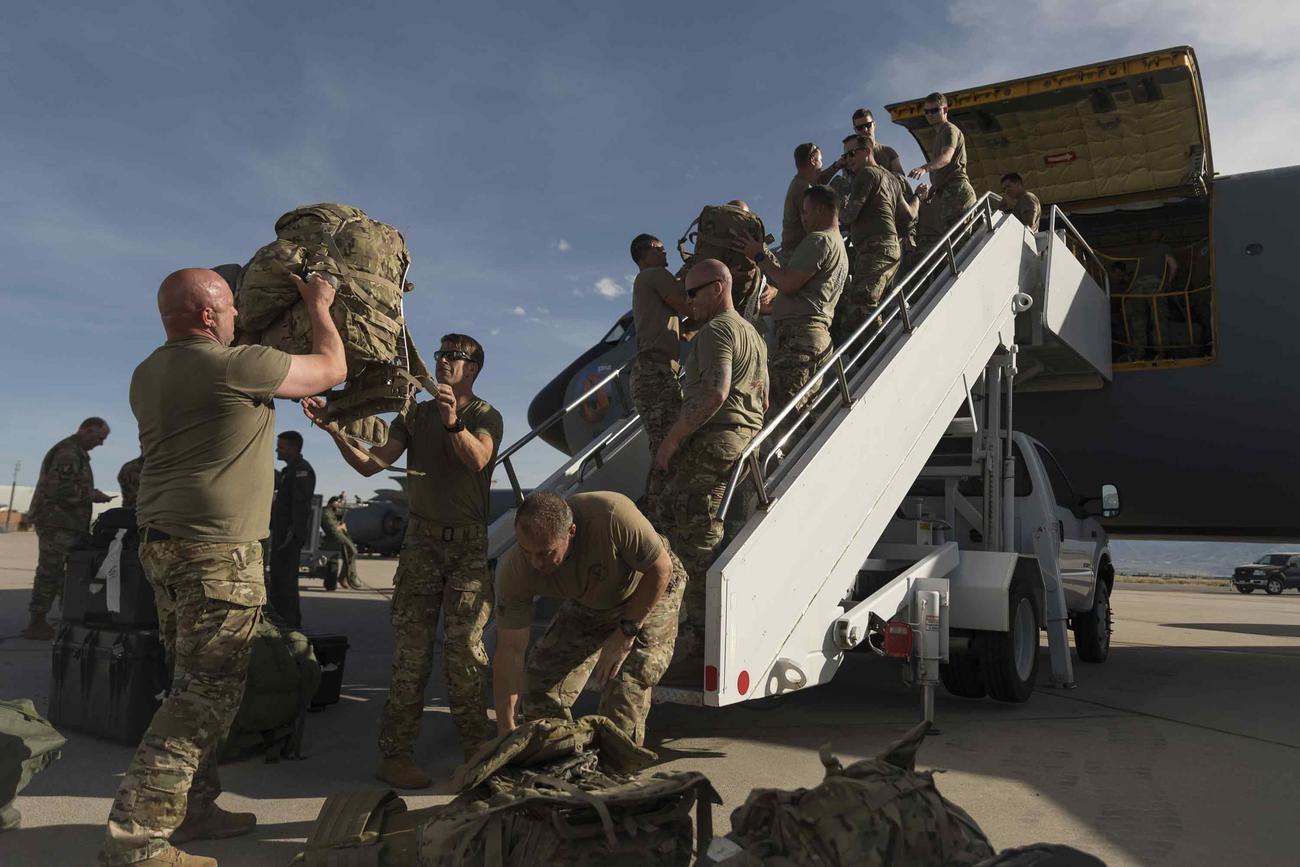 Washington, D.C., Mayor Muriel Bowser is disputing claims from a U.S. senator that deployed members of the Utah National Guard were evicted from a hotel in the District.
In a series of tweets and an appearance on Fox News on Friday, Sen. Mike Lee, R-Utah, charged that Bowser is targeting the National Guard as part of her ongoing feud with President Donald Trump over their presence in the city to control protests.
Read next: 'Only African American in the Room:' Next Air Force Chief of Staff Speaks Out on Racism in Ranks
Some 200 Utah Guard members were evicted from the Marriott Marquis near the White House on Friday after concluding their duty "protecting the people of D.C.," Lee said in a follow-up statement. He said they had finished an all-night shift at 3 a.m. Friday and were booted from their hotel by 11 a.m., despite having another shift.
"Evicting Utah National Guard personnel from their hotels after a late-night shift risking their lives to protect Washington is a shameful, petty, discrediting decision by Mayor Bowser," he said. "Our Utah Guardsmen are consummate professionals who are not complaining in the slightest. But their labor and sacrifice on behalf of Washingtonians deserves better than this embarrassing spectacle.
"If Mayor Bowser has a problem with President Trump, she should take it up with him, not take it out on National Guard personnel in the middle of a dangerous deployment in her city," Lee said. "These brave men and women have risked their lives protecting D.C. for three days, and now they are being kicked to the curb by an ungrateful mayor."
On Fox News, Lee said there may have been "some kind of contracting mistake" involving the Utah Guard members staying at the Marriott, and "I find this very strange."
He called on the mayor to apologize.
Bowser said she has no authority over who does or doesn't stay at hotels, but added that the District would not pay for the rooms.
"At no time did we intend or would we be able to effect evicting any Guardsman from any hotel," Bowser said at a Friday news conference.
In a Twitter post directed at Lee, Bowser said, "Senator — until they are recalled home — which I have formally requested from the President, your troops are in DC hotels. However, DC residents cannot pay their hotel bills. The Army can clear that up with the hotel today, and we are willing to help."
It was not immediately clear whether the problem was overbooking or a dispute over who should pay for the rooms.
Maj. Jaime Thomas of the Utah National Guard said the issue was quickly resolved with the help of the D.C. National Guard, and another hotel was found for the Utah Guard.
A spokeswoman for Utah Gov. Gary Herbert, who approved sending the Utah Guard to D.C., said the governor was aware of the hotel issue but did not have any immediate comment.
At a Pentagon briefing later Friday, Army Secretary Ryan McCarthy said the hotel issue appeared to be the result of a misunderstanding.
He said D.C. was paying for accommodations for National Guard members assisting with the COVID-19 effort, but had not agreed to pay for those backing up local law enforcement.
McCarthy said Bowser wanted to get the Utah Guard members at the Marriott "out of those hotel rooms, so we made that accommodation, obviously, and we're moving them to different locations."
Also Friday, Bowser ordered a huge "Black Lives Matter" mural painted across several streets near the White House and changed the street signs to read "Black Lives Matter Plaza."
At a news conference with Bowser on Friday, Metro Police Chief Peter Newsham said that looting and violence in the District had largely dissipated since federal law enforcement agencies backed by the National Guard forcefully pushed back protesters near the White House on Monday evening, ahead of the 7 p.m. curfew.
Newsham said Metro police had made no arrests for the last three nights.
At the White House on Friday, where he hailed a drop in unemployment rates for May, Trump heaped praise on the National Guard for contributing to calm in the District.
"The National Guard was unbelievable. It was like a piece of cake" in restoring order, he said.
In a tweet, Trump also took another dig at Bowser over the hotel issue.
"The incompetent Mayor of Washington, D.C., whose budget is totally out of control and is constantly coming back to us for 'handouts,' is now fighting with the National Guard, who saved her from great embarrassment," he wrote.
— Hope Hodge Seck contributed to this report.
— Richard Sisk can be reached at Richard.Sisk@Military.com.
Related: Lightning Strike Injures 2 National Guard Members in DC
© Copyright 2020 Military.com. All rights reserved. This material may not be published, broadcast, rewritten or redistributed.