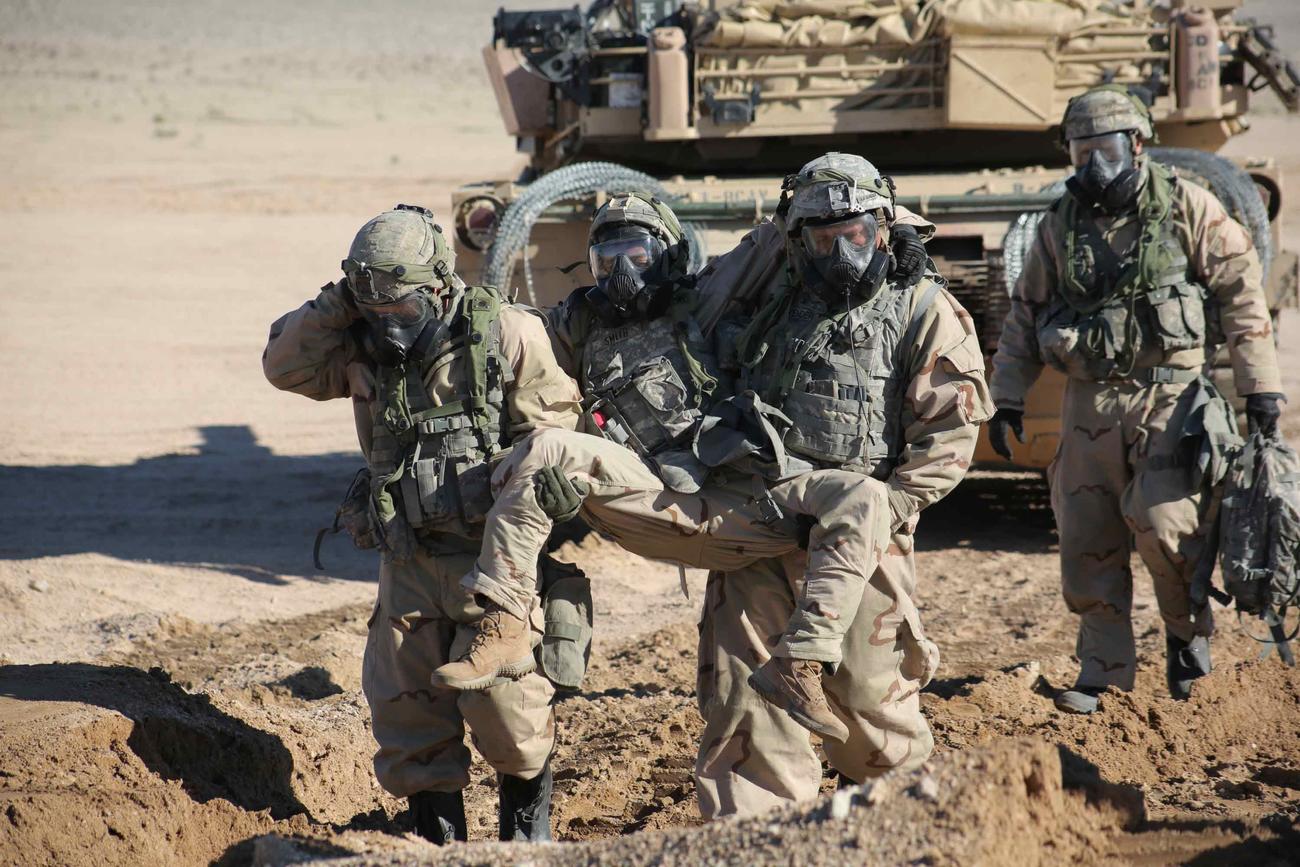 The 1st Cavalry Division will emphasize use of chemical and biological hazard MOPP gear as the first unit to train for the possibility of joint warfare in the new era of pandemics, the famed division's deputy commander said Thursday.
In the past, soldiers tended to regard their periodic training in donning and removing the cumbersome Mission Oriented Protective Posture suits as a nuisance, Army Brig. Gen. Brett Sylvia, 1st Cav's deputy commander-maneuver, said in a video conference from Poznan, Poland.
Read next: 'She's Doing Well:' Esper Discusses Young Sailor Who Took Down Corpus Christi Gunman
"And so, when you head out to the field, nobody ever wants to put on that big MOPP suit and the gloves and the booties, and go through all that kind of stuff," Sylvia said.
"Well, people are taking it seriously now, and people are wearing those gloves and wearing their protective gear, and they're paying attention to these things" to protect themselves and their units from the virus, he said in the video conference, sponsored by Blue Star Families, on COVID-19's impact on the military.
Sylvia said the 1st Cav is stressing the importance of the MOPP gear in prepping for a joint exercise with Polish troops as part of U.S. European Command's scaled-down Defender Europe 20 training, which has shifted its original purpose to focus on how to fight during an epidemic.
"We're the first ones doing this at this scale in the Army," he said of the prep for an upcoming river crossing operation involving about 6,000 U.S. and Polish troops.
The Army wants to take lessons learned from the exercise on "how we're able to operate in a contaminated environment," Sylvia said. "What are the principles we would employ? How are we going to protect the force?"
Units will be quarantined before the exercise begins, he said, adding "100% of the U.S troops who participate in this exercise will be tested" for the novel coronavirus, followed by spot testing as the operation unfolds.
The exercise will also stress social distancing. "But when you think about it, there is no social distancing inside a tank," Sylvia said. "You've got four guys on top of one another, and they're not maintaining the distance."
Defender Europe 20 was originally planned as the largest joint exercise in Europe since the end of the Cold War, but has been significantly cut back because of the spread of the virus.
Sylvia said six major exercises were initially planned, involving a total of about 37,000 troops from 10 nations. "Obviously, things changed."
Exercises were postponed or canceled, he said. The U.S. had planned to send 20,000 troops from the States to Europe, along with 20,000 pieces of equipment.
"About 6,000 soldiers made it" to Europe, Sylvia said.
"Obviously, a lot of that turned around and headed back to the States," he said of the troops and equipment.
— Richard Sisk can be reached at Richard.Sisk@Military.com.
Related: SecDef 'Absolutely Confident' US Will Have a COVID-19 Vaccine by Year's End
© Copyright 2020 Military.com. All rights reserved. This material may not be published, broadcast, rewritten or redistributed.