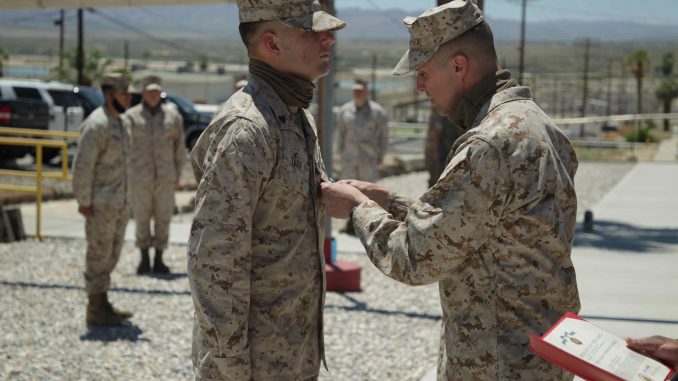 When Cpl. Andrew Tate saw an overturned car at the side of the road in a national park in California, his Marine instincts and trauma aid training kicked in and allowed him to save the life of the badly injured driver, he said.
Tate, with the 1st Marine Division, was awarded the Navy and Marine Corps Commendation Medal this month in a ceremony at the Marine Corps Air Ground Combat Center in Twentynine Palms, Calif., for rescuing the driver — a man in his mid-40s who was on a camping trip.
But if Tate had not taken the Combat Lifesaver Course, things might have turned out differently, the Marine told Stars and Stripes by phone Thursday.
Tate pulled over immediately when he saw the flipped vehicle in Mojave National Preserve, about an hour south of Las Vegas.
Grabbing the trauma kit he always carries with him, he ran to the vehicle, only to find the doors had been crushed inward and wouldn't open.
Instinctively, Tate heaved his body against the vehicle and began shaking one of the doors back and forth until he was able to wrench it open, he said.
"The driver was going in and out of consciousness, bleeding from his forehead, had a collapsed lung, some broken ribs and was in critical condition," Tate said.
With another motorist who had also stopped to help, retired Marine Lt. Col. Tom McCabe, Tate carefully extracted the driver from the vehicle. McCabe counted several cars that drove past without stopping, Tate said.
As the two Marines pulled the injured man from the vehicle, they talked to him to ensure he did not lose consciousness, Tate said.
"That's something they teach us in the Combat Lifesaver Course — keeping the patient alive, keeping him talking so he does not fall asleep and can be gotten out safely," he said.
Tate stabilized the victim and prepared a landing zone for a medical evacuation helicopter, his award citation said.
Several weeks after the incident, which happened last year, the driver told Tate that he was recovering and doing well, the Marine said.
The Navy and Marine Corps Commendation medal is awarded for acts of heroism or meritorious achievement or service to personnel serving in any capacity with the Navy or Marine Corps.
© Copyright 2020 Stars and Stripes. All rights reserved. This material may not be published, broadcast, rewritten or redistributed.