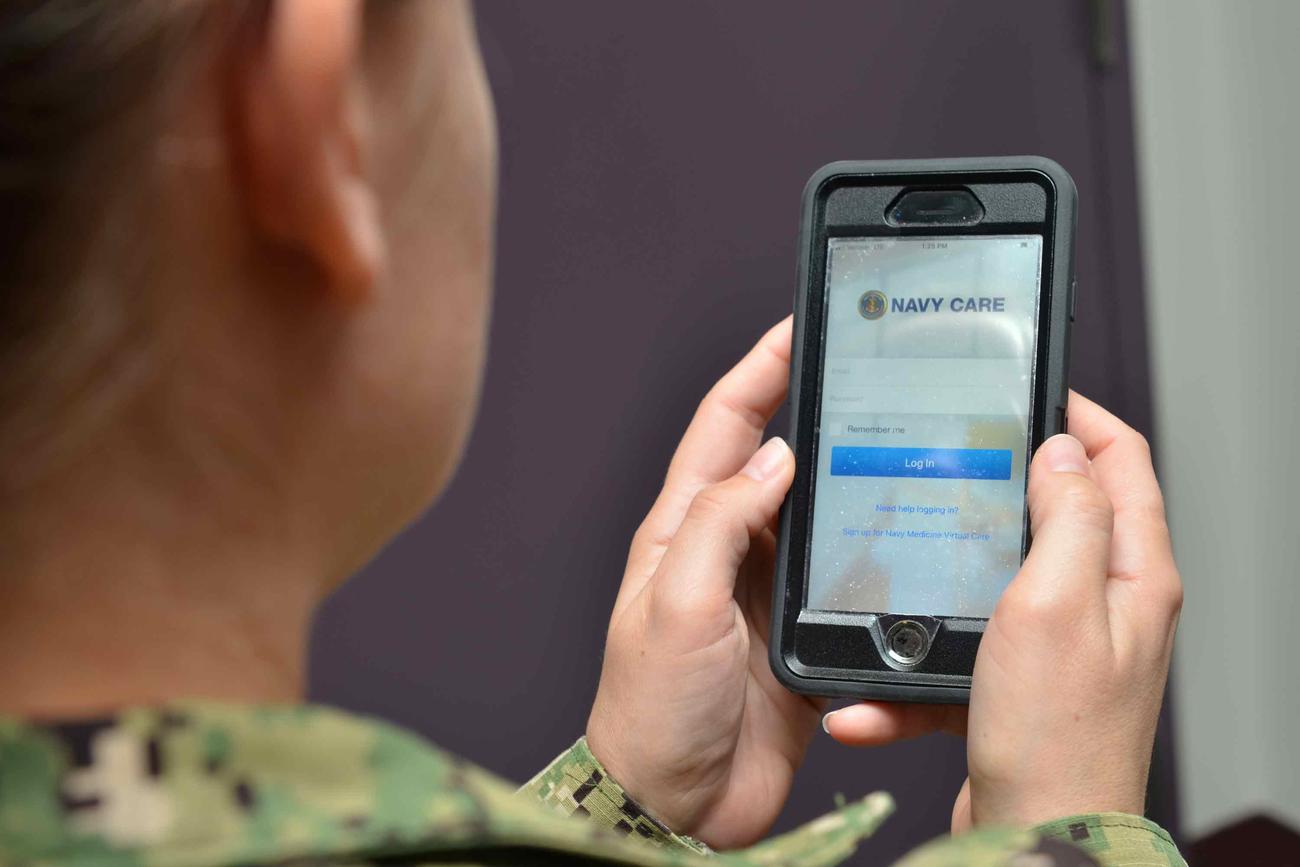 The novel coronavirus pandemic may forever alter the way the U.S. Navy delivers psychiatric care and therapy to sailors, Marines and military dependents.
Health officials said Tuesday that face-to-face mental health visits are down for the Navy and Marine Corps, while phone appointments have increased since the start of the COVID-19 outbreak — a shift that is prompting them to consider expanding audio and video appointment capabilities for medical care in the future.
Read next: Navy Carrier Theodore Roosevelt Back at Sea After Coronavirus Outbreak
Increased availability of these platforms may be necessary as patients who are now focused on handling their day-to-day schedules, including work and family requirements, seek help for psychological conditions as the pandemic continues or ends, said Capt. Joshua Morganstein, a U.S. Public Health Service officer, psychiatrist and assistant director for the Center for the Study of Traumatic Stress at the Uniformed Services University of the Health Sciences.
"Historically, there has been an increase in demand for mental health care after disaster-type events," Morganstein said. "Things like distress, insomnia, distractibility, irritability, feeling unsafe, as well as risky health behaviors like increasing use of alcohol and other substances to manage stress."
In March, as the pandemic spread, calls to the national Disaster Distress Helpline run by the Substance Abuse and Mental Health Services Administration rose by more than 330%.
At the Department of Veterans Affairs, mental health phone consultations rose from 40,000 in February to 154,000 in March, a 280% increase, while telehealth group therapy sessions increased by 200%.
Capt. James Reeves, director of mental health at the Navy's Bureau of Medicine, said the Navy anticipated an initial decline in medical appointments as hospitals and clinics stopped taking all but essential cases.
The service has seen an increase in patients booking phone appointments, but there has still been an overall decrease in mental health utilization across the Navy and Marine Corps, he said.
"I think that's from the initial shock and the social distancing and things changing," Reeves said. "People may not be sure how to get an appointment. But I think that's starting to get back to normal. It's something we'll continue to follow."
Military personnel and family members have many options for mental health services outside psychiatric departments in military treatment facilities, including providers embedded in primary care departments and assigned to military units.
Family members can see private providers through the Tricare health network. "Non-medical" counseling, such as anger management classes and marriage counseling, is available through several resources, including military chaplains, the Fleet and Family Support Centers, Marine Corps Community Services and Military OneSource, a DoD program that provides support services for military families.
Reeves said he did not know whether demand for non-medical counseling at the family service centers or Military OneSource has increased.
The Navy is responsible for providing medical care to more than 524,000 active-duty sailors and Marines, as well as family members. Since the first U.S. service member was diagnosed with COVID-19 on Feb. 26, 2,298 sailors and 503 Marines have had confirmed cases of the illness.
Of the two U.S. troops who have died, one– Aviation Ordnanceman Chief Petty Officer Charles Robert Thacker Jr. — was a sailor, assigned to the aircraft carrier Theodore Roosevelt.
Reeves said the Navy lacked a robust telehealth program at the start of the crisis, having only a few pilot programs exploring the feasibility of virtual health, especially for mental health services. But, he added, telehealth has been shown to be "very effective" in those pilots, and the service is working to expand that capability.
"COVID has really pushed us to expand it in a matter of a week or two across the Navy," Reeves said.
According to Morganstein, the Navy plans to review its pandemic readiness, based on the lessons learned responding to COVID-19, to include understanding risk, exposure and operations during a pandemic.
Reeves said that the future may include telehealth for medical specialties where it is best suited, such as behavioral health. Mental health, which doesn't normally require a physical exam, is particularly suited for distance appointments, he said, adding that the patient no-show rate for phone appointments is significantly lower than it was for in-person appointments at military facilities.
"Telephonics have been really effective, so do we really need people to come back in? Maybe we can adopt this on an ongoing basis," he said.
He added that the Navy is looking at potential platforms for virtual health, such as those used by the VA.
"The VA has a great system for virtual health, so we're starting to actively look at what are the long-term platforms," he said.
One of the barriers to continued phone consults or virtual health are licensing policies that require physicians to practice medicine only in states where the patient is located at the time of treatment.
The requirement was waived during the pandemic by the Center for Medicaid Services, Tricare and most states until the declaration of the end of the national emergency, but if reinstated, would not allow military physicians to treat patients who live within their medical facility's immediate area but across a state line.
"If that [happens], we may be going back to more face-to-face," Reeves said.
Reeves and Morganstein said that Navy and military mental health officials are carefully tracking the well-being of all patients to make sure they are ready if calls for appointments increase.
Despite service efforts to decrease the stigma attached to mental health conditions and reduce fear of losing one's job or repercussions from seeking treatment, many military personnel are still reluctant to get care for mental illness.
To increase access to care and make it more user friendly, the Navy adopted its mental health embed program and has launched a campaign, "No Wrong Door," to encourage help-seeking behavior.
Reeves said he wants sailors, Marines and family members to get help if they need it.
"These doors that I mentioned are still open for people to access. It may be that you access them virtually or telephonically, but they are still open and ready and waiting for people who need support during this time. Feel free to come forward. We're here for you," he said.
Troops and veterans in crisis, as well as family members, can call the Military or Veterans Crisis Line, (800) 273-8255, press 1, or text 838255.
Military OneSource can be accessed at (800) 342-9647.
–– Patricia Kime can be reached at Patricia.Kime@Monster.com. Follow her @patriciakime.
Related: Pentagon Releases Plans for Easing Base Restrictions as States Reopen
© Copyright 2020 Military.com. All rights reserved. This material may not be published, broadcast, rewritten or redistributed.