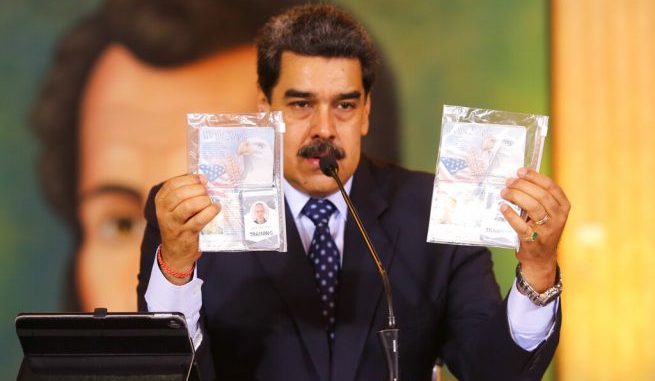 OAN Newsroom
UPDATED 7:10 AM PT — Tuesday, May 19, 2020
Authorities in Venezuela released video testimony from two former U.S. Special Forces soldiers who were jailed for their alleged role in a plot to overthrow the Maduro regime.
The Venezuelan Defense Ministry released the footage Monday showing testimony from 41-year-old Airan Berry and 34-year-old Luke Denman.
At the stand, Denman said he was instructed by former Green Beret Jordan Goudreau to invade the country, capture President Maduro and put him on a plane unharmed. He added that the guidelines for the operation were "vague" and said he never signed a contract.
"I didn't sign a contract," he stated. "We had a casual conversation, I guess you can call it a verbal contract giving me some vague mission guidelines on training Venezuelans, coming here and putting Maduro on a plane."
#18Mayo #EnVideo ???? | Vicepdte. Sectorial para Cultura y Turismo @jorgerpsuv mostró el testimonio del mercenario norteamericano Luke Denman #VenezuelaPatriaSana pic.twitter.com/NLeLXru8m4

— Alcaldia de Lamas (@alcaldiadelamas) May 18, 2020
According to reports, the Maduro regime is also accusing Colombia of supporting the operation and has since infiltrated its "intelligence services" for information.