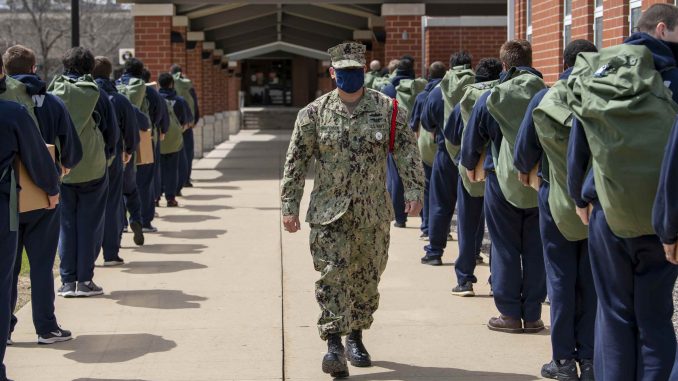 WASHINGTON — The Navy is spending roughly $1.1 million to send about 500 recruits each week to the Great Wolf Lodge Water Park near Chicago for two weeks of quarantine before they are shipped to basic training, service officials said.
Recruit Training Command Great Lakes in Illinois, the Navy's sole boot camp, had previously delayed accepting new recruits for a week in March after one recruit tested positive March 29 and was treated at a nearby medical center.
New recruits have been under a restriction of movement for two weeks at the closed indoor water park resort in Gurnee, Ill., Cmdr. Dave Hecht, a spokesman for the Chief of Naval Personnel, wrote in an email.
"By moving the [restriction of movement] to an off-site facility, they are able to provide rooms with a small number of recruits, which will reduce the likelihood of spreading of the illness between recruits, protect the recruits and staff already at [recruit training command], and increase the space available at [recruit training command] for physical distancing procedures," he said.
The facility was picked because it is about 10 miles from Great Lakes and can easily accept the flow of recruits each week, according to Hecht.
Nearly 3,900 recruits are now with Recruit Training Command Great Lakes, including those staying at the lodge, according to a Navy official who spoke on the condition of anonymity.
Prior to arrival, the recruits should have completed a voluntary 14-day restriction of movement at their homes and are screened at their Military Entrance Processing Station.
The Marine Corps is also quarantining recruits at The Citadel in Charleston, S.C., for two weeks before they travel to basic training at Marine Corps Recruit Depot Parris Island. The first group of recruits arrived at the college campus May 4. The Marines requested use of the college because the Parris Island staging operation for new recruits uses tents that will become impractical once hurricane season starts in June, according to a Citadel statement.
The one-month contract with the water park expires Tuesday and the Navy "will continue to evaluate requirements for additional contracts" as required, Hecht said. The lodge is closed until June 15, according to its website.
During their 14-day stay at the waterpark, the recruits will have course work and training during the day run by the recruit division commanders, according to Hecht. Recruits also have designated times for light physical activity, such as stretching, in their rooms.
They can bring two books and one hand-held gaming device to use during their quarantine, Hecht said, and none of the "resort-type" amenities are available for use.
The quarantine and health measures needed to protect personnel and recruits has increased their time at boot camp by a week to nine weeks, according to Hecht.
Once the 14 days have passed, recruits will be transported to Great Lakes to start their training but they will be required to wear masks and adhere to physical distancing protocols during the trip, according to Hecht.
Read more: SOCOM Wants Army's Futuristic Troop-Carrying Helicopter
© Copyright 2020 Stars and Stripes. All rights reserved. This material may not be published, broadcast, rewritten or redistributed.