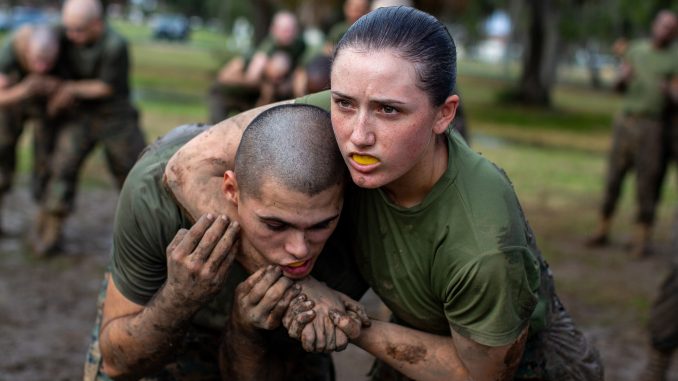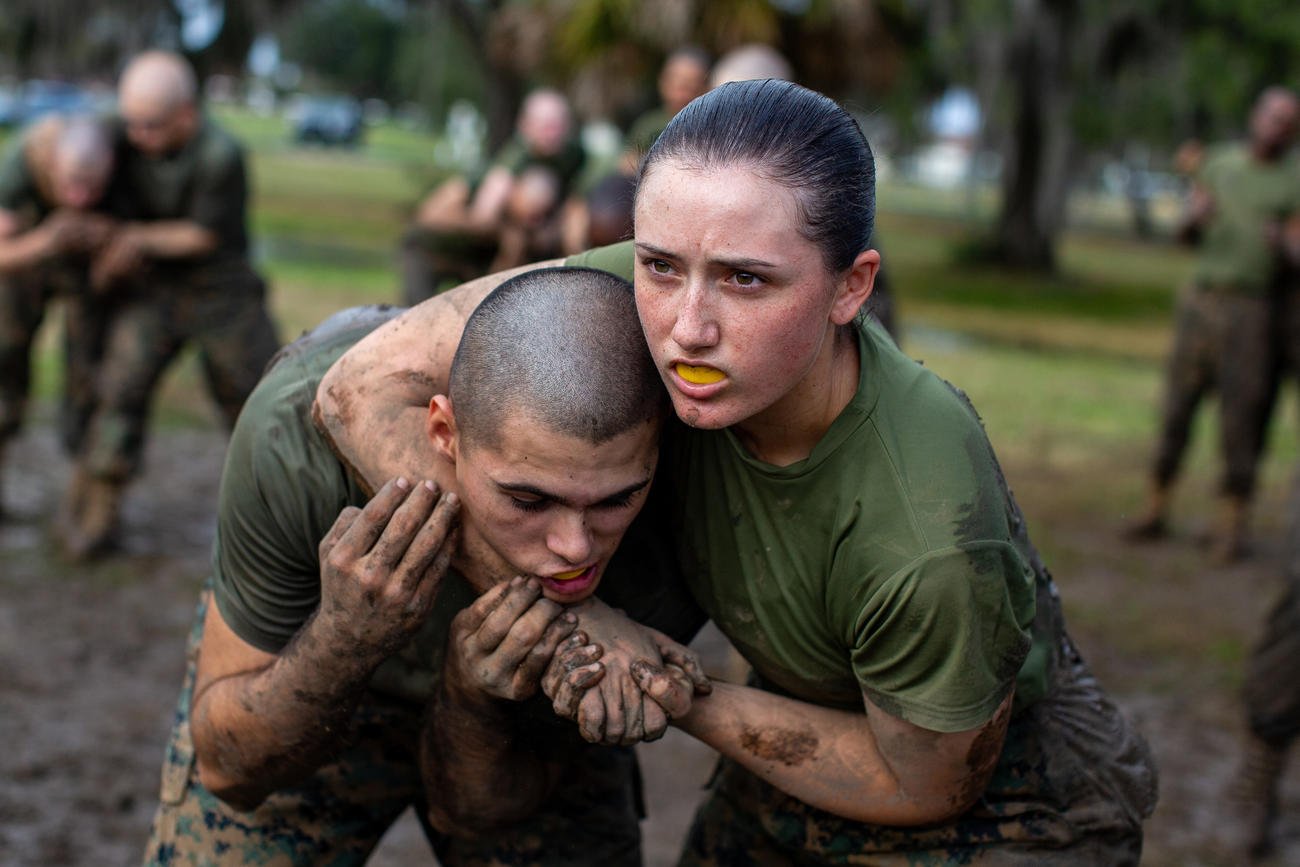 A planned independent, in-depth assessment of the Marine Corps' historically gender-segregated boot camp training model hasn't started yet — because no one has volunteered to conduct it.
The service didn't receive any applications following its November request for public universities to study the way it trains recruits at Marine Corps Recruit Depot Parris Island in South Carolina, Capt. Sam Stephenson, a spokesman for the command, told Military.com.
The service has traditionally separated men and women there, though there have been some recent coed companies that trained together but lived in separate squad bays. The Marine Corps wanted a third-party study to provide "objective, data-driven recommendation for policy change" to improve entry-level training for incoming recruits.
Related: The Marines Want an Academic Study on the Cost, Impacts of Coed Boot Camp
"At this time, Training and Education Command is reviewing the language of the original announcement for possible re-release at a future date," Stephenson said of the call for a boot camp study.
The academic study was due back to the Marine Corps by Feb. 1, 2021. Leaders wanted it to look at four areas: alternative boot camp training models, costs for those alternatives, costs for the current model of separating male and female recruits, and how perceptions about coed training influences a person's decision to join the service.
The Marine Corps is facing a deadline to make both of its recruit depots — Parris Island on the East Coast and San Diego on the West Coast — ready to support gender-integrated training. Women currently train only at Parris Island, but the 2020 National Defense Authorization Act included a requirement to change that.
The provision, which was added by Rep. Jackie Speier, a California Democrat, calls for boot camp to be coed at Parris Island within the next five years and in San Diego within eight.
Maj. Gen. William Mullen, the head of Training and Education Command, which oversees the recruit depots, told Military.com last fall that he ordered the academic study on Marine boot camp to get a neutral assessment of the service's training model.
"If an independent study, not affiliated with the Marine Corps, comes in and takes a hard, honest look at things in an unbiased way, how do you argue with that?" Mullen said.
Many in the Marine Corps have long defended the decision to keep boot camp segregated by gender. Even the first-ever mixed-gender training battalions that have graduated at Parris Island over the last year spent much of their first month training at the platoon level, meaning the women trained separately from the men with their female drill instructors. During the next phase of training, the male and female platoons were combined for more of their training, hiking together or hitting the rifle range.
Mullen said the academic study would determine whether the Marine Corps has the right approach. The service trains its male and female officer candidates together, and the other military branches do not separate men and women at boot camp.
"We think we have it right … but how much of that is our own biases?" Mullen said. "How much of that is a 'we invented it here' kind of thing?"
Some have blamed the Marine Corps' model for creating division between men and women in the ranks.
If the service puts out another call for a study of training at Parris Island, researchers could face new challenges as they assess training during the novel coronavirus pandemic. All the military branches have put new safety protocols in place to help prevent the spread of COVID-19 at boot camp. Parris Island has seen more than 20 cases there, which led officials to temporarily halt incoming shipments of recruits.
"As the situation surrounding COVID-19 continues to evolve, all necessary safety precautions will be taken to ensure the conduct and execution of any academic study does not jeopardize the health of those involved and is conducted in accordance with [Defense Department] guidance," Stephenson said.
— Gina Harkins can be reached at gina.harkins@military.com. Follow her on Twitter @ginaaharkins.
Read more: Marine Corps Training Chief Says He's Open to Ending Gender-Segregated Boot Camp
© Copyright 2020 Military.com. All rights reserved. This material may not be published, broadcast, rewritten or redistributed.