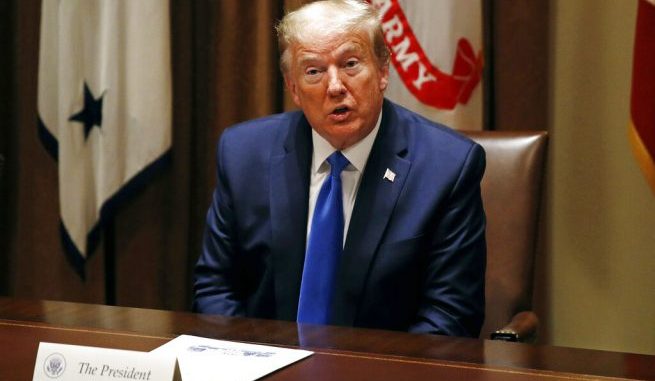 OAN Newsroom
UPDATED 11:30 AM PT — Sunday, May 10, 2020
President Trump met with senior military and security officials this week. Saturday's cabinet meeting featured a number of the president's top personnel, including Chairman of the Joint Chiefs General Mark Milley, Treasury Secretary Steven Mnuchin, Secretary of State Mike Pompeo and many more.
Officials did not specify the topics they discussed, but President Trump has said it was a very productive meeting. While speaking to the press, he touted the state of America's armed forces.
"Our military is very strong, more so than it's been in many, many years," he stated. "We've spent $1.5 trillion rebuilding our military and it shows."
The gathering came after the president cancelled previous plans to hold the meeting at Camp David.
He also recently touted the White House's response to the pandemic. In a tweet, President Trump wrote, "We are getting great marks for the handling of the coronavirus pandemic, especially the very early ban of people from China."
He also criticized the previous administration, saying "compare that to the Obama sleepy Joe disaster known as H1N1 swine flu." He added, "Poor marks, bad polls and didn't have a clue."
We are getting great marks for the handling of the CoronaVirus pandemic, especially the very early BAN of people from China, the infectious source, entering the USA. Compare that to the Obama/Sleepy Joe disaster known as H1N1 Swine Flu. Poor marks, bad polls – didn't have a clue!

— Donald J. Trump (@realDonaldTrump) May 10, 2020
WATCH: HHS Secy. Azar: President Trump's Early, Bold, Decisive Leadership Helped Flatten COVID-19 Curve