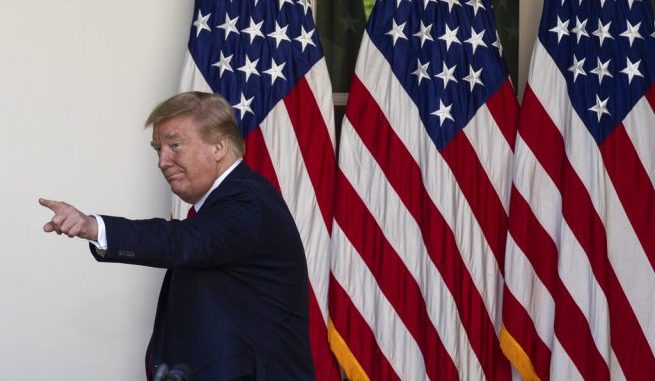 OAN Newsroom
UPDATED 7:22 AM PT — Friday, May 8, 2020
President Trump gave a shout out to General Michael Flynn after the Department of Justice announced it would move to drop its criminal charges against him.
While taking to Twitter Friday, the president said Thursday "was a big day for justice in the USA." He congratulated Flynn and noted that he believes "there is much more to come."
The president went on to state that "dirty cops and crooked politicians do not go well together" and in another tweet reiterated his mission to "drain the swamp."
DRAIN THE SWAMP!

— Donald J. Trump (@realDonaldTrump) May 8, 2020
During a phone interview Friday, President Trump stressed the entire Russia investigation was a hoax that started to unravel once he fired former FBI Director James Comey.
"This was a take-down of a duly elected President of the United States," he stressed. "When I fired Comey because he was dishonest and lied in front of Congress and other things…when I fired Comey, you know what hit the fan and it was big, it was a monster…and all of those guys started going after each other."
The president went on to say that exposing corrupt officials and authorities in the Department of Justice as well as the FBI will be one of his greatest achievements.
Meanwhile, U.S. Attorney General William Barr came to the Justice Department's defense in dismissing the case against General Flynn. During an interview Thursday, he said it was his "duty" to drop the charges and adding that he wanted to "restore confidence in the system."
Flynn pleaded guilty to lying to the FBI back in 2017, but Barr claimed his actions were "not a crime."
"Well you know people sometimes plead to things that turn out not to be crimes and the Department of Justice is not persuaded that this was material to any legitimate counter-intelligence investigation," explained the attorney general. "So, it was not a crime."
Barr said the president did not request that Flynn's case be dropped. He also said this will not impact the Russia investigation and the Department of Justice will continue to investigate other aspects of the probe.