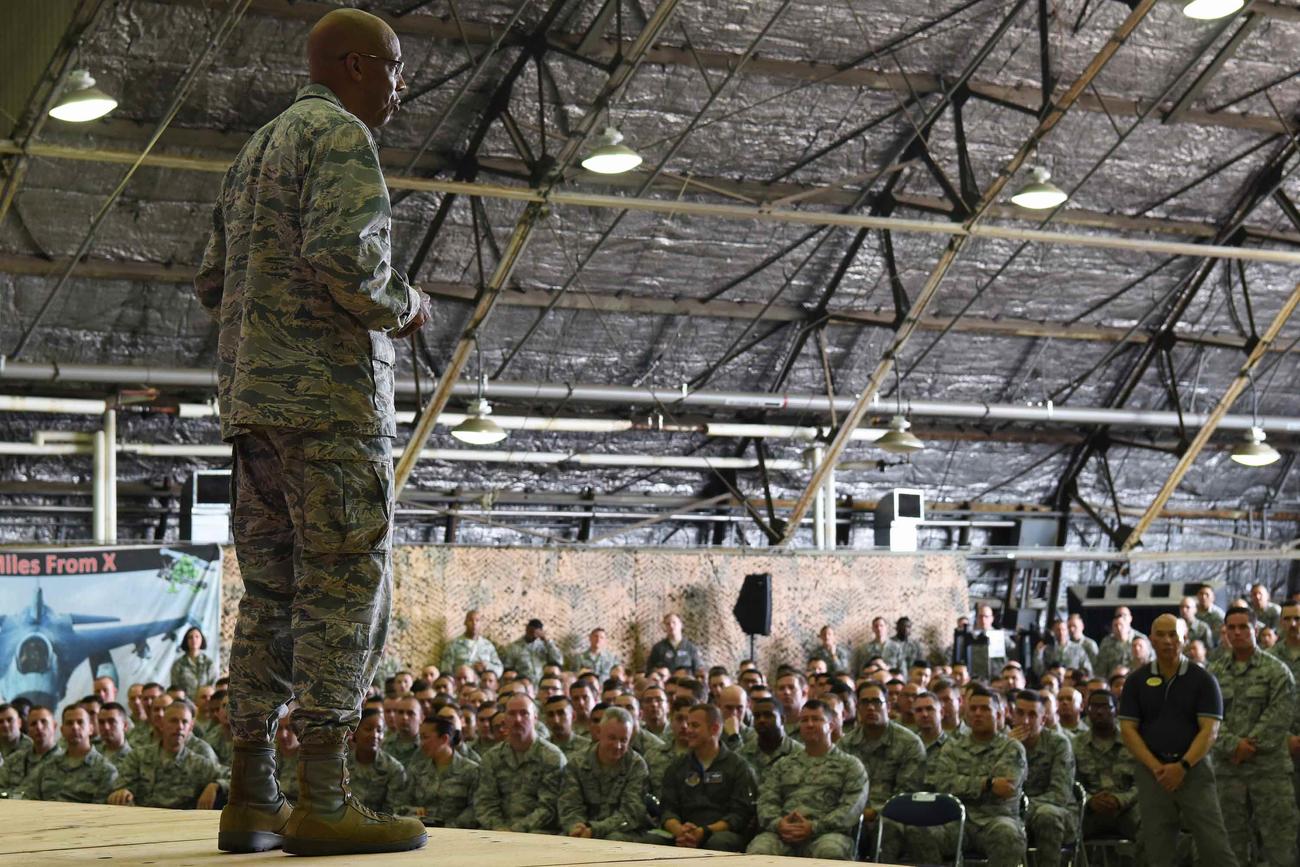 The general nominated to be the next Air Force chief of staff wants to put the service on a path to add units across the force — even if it falls short of its previously stated goal of 386 squadrons.
Gen. Charles "CQ" Brown told lawmakers during a Senate Armed Services Committee confirmation hearing Thursday that the service "incurs risk" without the plus-up it needs to meet increasing demands around the world.
"We've still got to be able to grow to 386, that's the goal," Brown told the committee during the hearing. President Donald Trump has also thrown his support behind the 386-squadron effort.
But whether the service hits that goal or not, additional airmen, equipment and resources will make it stronger, Brown said.
"Some of the things I think about is, even as you look at trying to get to 386 or working toward 386, if we don't achieve 386, we may be a little bit smaller … but we'll be more capable," he said.
Then-Air Force Secretary Heather Wilson announced in 2018 that the service wanted to add at least 74 additional squadrons over the next decade, increasing from 312 to 386, with the bulk conducting command and control; intelligence, surveillance and reconnaissance; and tanker refueling operations.
Related: The Air Force Wants to Retire Aging Aircraft. It Will Have to Get Past Congress First
But what service brass are still debating is how exactly to fill those squadrons. And with the creation of the U.S. Space Force, some missions have begun to shift from the Air Force to the newest military branch. The Air Force had been looking to grow its space initiative in the original 386 plan.
The White House nominated Brown in March to be the service's 22nd chief of staff, replacing Gen. David Goldfein. The nomination, announced by the Defense Department on Monday afternoon, would make him the first African American officer to serve as the top uniformed officer for any of the military branches.
In answers to lawmakers' questions provided to the committee before the hearing, Brown said that, given uncertain budget environments, as well as the novel coronavirus pandemic, overlapping missions become damaging to overall operations.
"Some redundancies make sense given the strategic environment, but I agree that there are
redundancies that detract from both efficiency and effectiveness of the Joint Force," he said, according to the published remarks.
"With the COVID-19 crisis and [the National Defense Strategy] implementation, however, now is the time to reconsider our approaches to air power and, if confirmed, I am ready to participate in a meaningful discourse to rethink prior assumptions and take steps toward consolidating and reducing redundancies," Brown said.
As an example, he said it's time to utilize what other services, or even allies and partners, are doing in the intelligence, surveillance and reconnaissance realm.
"Persistent, multirole capabilities are provided through the Air Force MQ-9A program, Army MQ-1C program, and partner nations," he said. "The Navy, NATO and foreign partners have procured variants similar to the [RQ-4 Global Hawk]. This collectively allows the Air Force to accept prudent risk with a leaner, more ready force, while investing in long-term capability."
Brown said having large equipment numbers is not necessarily a measure of success, especially with manned aircraft.
"It's also how we view manned-unmanned teaming," he said during the hearing.
For example, the Air Force Research Lab has been working on the "Skyborg" program, aimed at pairing artificial intelligence with a human in the cockpit. The goal is to incorporate the Skyborg network into the XQ-58 Valkyrie drone alongside manned fighters, so the machine can learn how to fly and even train with its pilot.
Unmanned Valkyries that could think autonomously would then be sent out alongside F-35 Joint Strike Fighters to scout enemy territory ahead of a strike, or to gather intel for the aircraft formation.
"The XQ-58 Valkyrie is one of those systems that we can team up with particularly some of our fifth-gen capability to increase our range, increase our awareness, to increase our strike capability," he said. "So those are the kind of things we're working on inside the Air Force."
— Oriana Pawlyk can be reached at oriana.pawlyk@military.com. Follow her on Twitter at @Oriana0214.
Read more: Boeing Delivers First 'Loyal Wingman' Drone Prototype for Testing
© Copyright 2020 Military.com. All rights reserved. This material may not be published, broadcast, rewritten or redistributed.