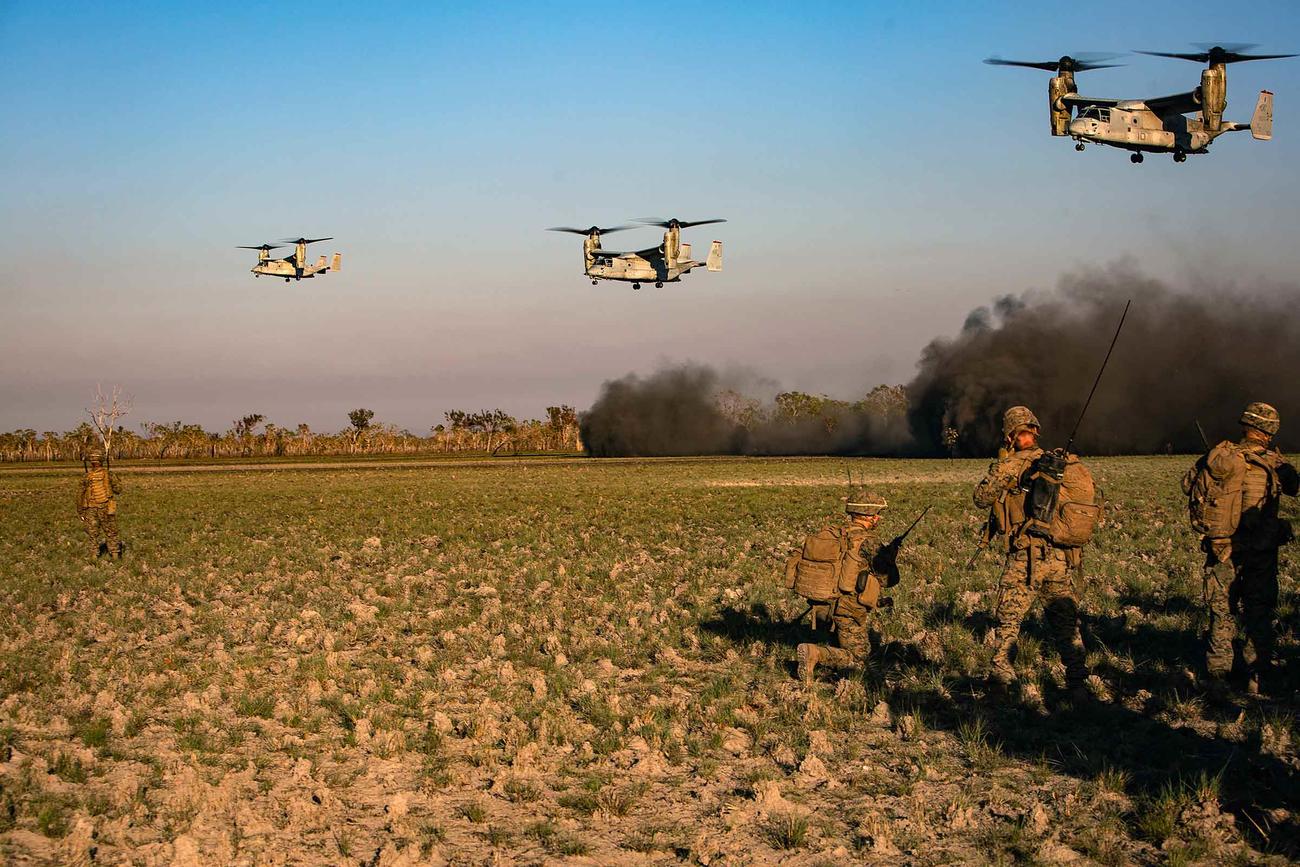 Thousands of Marines will head to Australia's Northern Territory about two months later than planned, but they'll shelter in place once there to help prevent any spread of the novel coronavirus.
Defense Secretary Mark Esper said Tuesday that the Aussies approved Marine Rotational Force-Darwin to proceed. Australia in March barred most foreign nationals from entering the country due to the coronavirus pandemic. Now, the Marines' rotational force that deploys there in the spring has been granted an exemption to the policy.
The Marines will spend 14 days quarantined once they arrive to help prevent any spread of the coronavirus.
Related: Marines May Have to Tough Out Australia's Wet Season Thanks to Deployment Delay
A spokesman with Marine Corps Forces Pacific declined to say what units will be included or whether any planned exercises will be canceled due to the pandemic. Thousands of California- and Hawaii-based Marines — along with MV-22 Osprey tiltrotor aircraft, AH-1Z Viper and UH-1Y Venom helicopters and RQ-21 Blackjack drones — were scheduled to deploy to Darwin this spring.
"We continue to work closely with the Australian Defence Force … on the force composition, timing and planned training," a statement from the command said.
The Marine Corps announced in March that the annual six-month rotation would be delayed over the coronavirus crisis. More than 5,000 U.S. troops have tested positive for COVID-19, the illness caused by the coronavirus, including 434 Marines.
The decision to proceed with the rotation was based on Australia's record in managing impacts of the virus, as well as the service's strict adherence to a two-week quarantine when units arrive somewhere new, according to Marine Corps Forces Pacific.
"The Marine Corps is committed to ensuring the health and safety of its forces and the Australian people, including local indigenous communities," the service said in a statement.
Australia was able to flatten its coronavirus curve quickly, and is now in the process of easing restrictions. The country, which has a population of about 25 million, has had fewer than 6,800 confirmed coronavirus cases and 97 deaths.
The country's Northern Territory, where Marines deploy, has seen some of Australia's lowest COVID-19 rates, according to government data.
Marines typically deploy to Darwin during the dry season. It's not immediately clear whether the delayed deployment could now extend into the region's wet season, which typically runs from November to April.
That can bring cyclones, heavy rainfall, high humidity and temperatures in the 90s.
This was supposed to mark the second year Marine Rotational Force-Darwin hit its full 2,500-person rotation. Leathernecks have been deploying there for almost a decade, building up from a company to a full Marine air-ground task force.
The rotation is a big piece of the service's shift to the Asia-Pacific region and has given the service new training opportunities with partners there.
This year's delay won't affect any future rotations down under, according to Marine Corps Forces Pacific.
— Gina Harkins can be reached at gina.harkins@military.com. Follow her on Twitter @ginaaharkins.
Read more: China's Antics Are a 'Game-Changer' for the Navy and Marine Corps, 4-Star Says
© Copyright 2020 Military.com. All rights reserved. This material may not be published, broadcast, rewritten or redistributed.