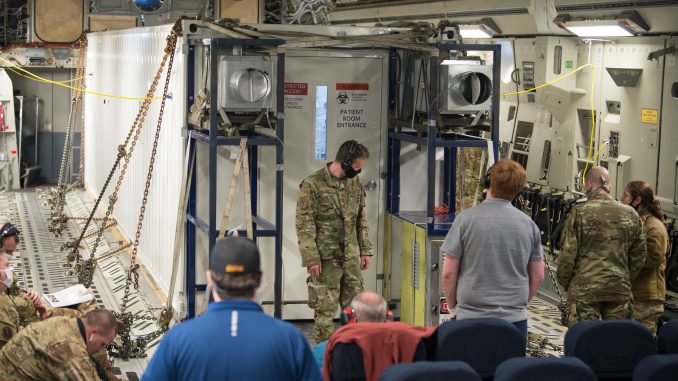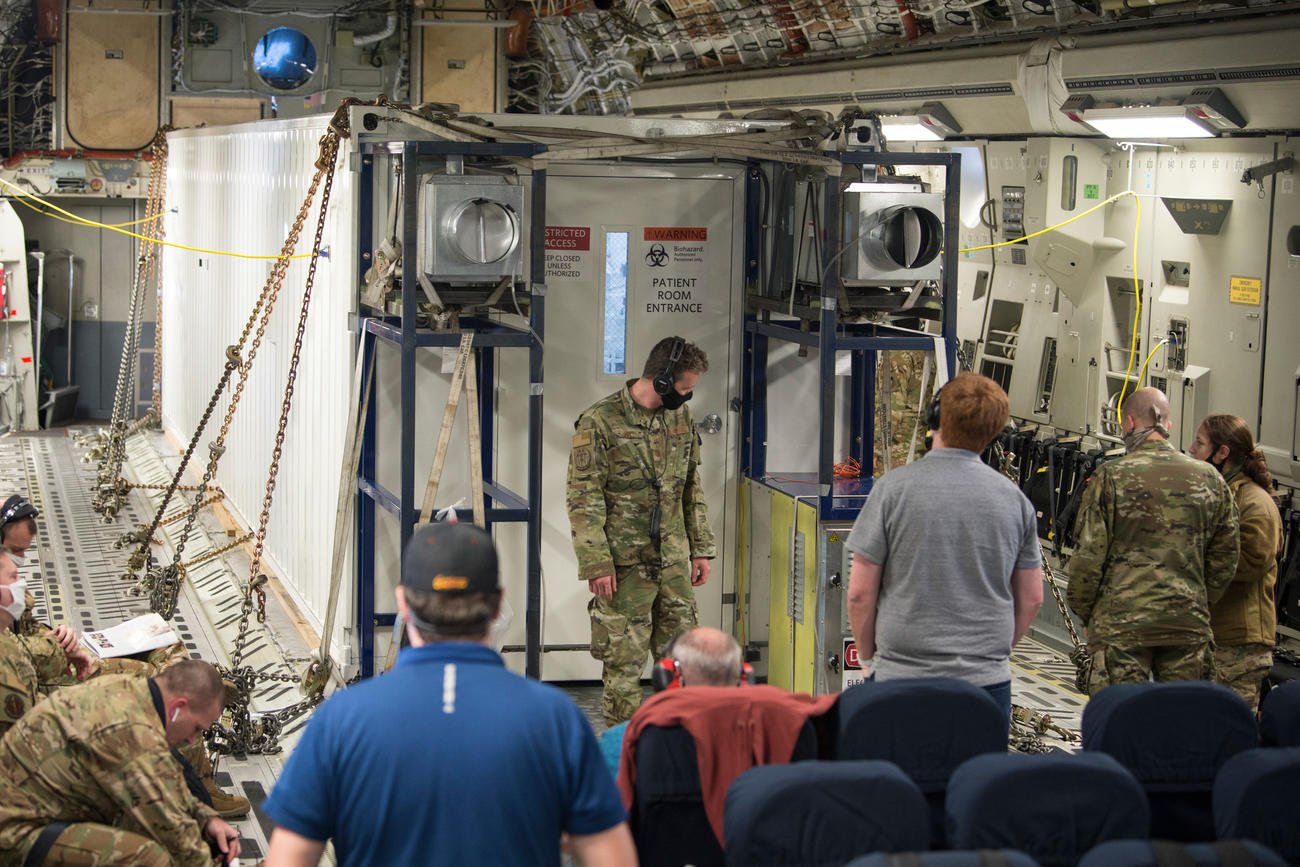 The Air Force says it has figured out how to turn a steel CONEX box shipping container into a negatively pressurized capsule that can carry up to 28 COVID-19 patients without spreading the disease to the crew.
Officials with the service's Program Executive Office for Agile Combat Support; Air Force Materiel Command; and Air Mobility Command revealed the capability at a Joint Base Charleston, South Carolina, demonstration attended by Air Force Chief of Staff Gen. David Goldfein last month, according to a service release.
The reconfigured CONEX box had to meet four objectives; "contain the virus from aircrew and the aircraft; be usable for aeromedical teams; have the potential to be certified airworthy; and have the potential to be safe to fly," the release states.
Researchers were able to achieve all four criteria, with the goal for the box to be adapted within a C-17 Globemaster III or a C-5 Supergalaxy aircraft, the service said. The box has capacity for 28 seated passengers, as well as various seat combinations for ambulatory patients and bunked, cot-like litters for bedridden patients, within an aircraft's hold.
"Designed in response to COVID-19, the NPC [Negatively Pressurized Conex] can safely isolate infected or potentially infected individuals while protecting the aircrew and not contaminating the aircraft," the release adds.
Related: Air Force Testing Ability to Mass-Evacuate COVID Patients Without Getting Crews Sick
"In just nine days [after the box's delivery to Joint Base Charleston], we have proved the NPC concepts capabilities, 21 days after [a] contract award. I could not be prouder of this team of teams," said Lt. Col. Paul Hendrickson, materiel leader within the Air Force Life Cycle Management Center's PEO Agile Combat Support and NPC Lead.
In addition to a number of academics and contractors, who the Air Force declined to identify, the effort included Eglin Air Force Base's Air Force Operational Test and Evaluation Center's (AFOTEC) Det. 2 and the 28th Test and Evaluation Squadron; and chemical, biological, radiological and nuclear (CBRN) defense teams, the release states.
"We have been part of a comprehensive development team to ensure the NPC works and is practical for the medical teams who will use it," said Lt. Col. Sarah Morton, Air Mobility Command's chief for aeromedical evacuation standards and evaluation.
Next, more analysts and flight physiologists intend to take the project into its secondary phase, to "work required design changes to ensure production units meet certification requirements," according to the release.
U.S. Transportation Command in early April tasked cargo and airlift units to think about how they could retool equipment to best transport sick patients.
For example, that month, aircrew and medical personnel used the Transport Isolation System, or TIS, for the first time since the 2014 Ebola outbreak to carry three U.S. government contractors who tested positive for coronavirus aboard a C-17 from Afghanistan to Landstuhl Regional Medical Center in Germany. The TIS, however, can carry only two to four patients within the airlocked unit.
Weeks later, Air Mobility Command, in tandem with researchers from the National Strategic Research Institute at the University of Nebraska and the Defense Advanced Research Projects Agency, conducted weeklong airflow experiments on six different aircraft — the C-17, C-5, KC-135 Stratotanker, C-130J Hercules, KC-46 Pegasus and KC-10 Extender.
The goal was to analyze how air travels through a cargo hold using specialized, traceable droplets without employing specialty equipment such as the TIS for a potential mass evacuation.
— Oriana Pawlyk can be reached at oriana.pawlyk@military.com. Follow her on Twitter at @Oriana0214.
Read More: Some Soldiers' COVID-19 Crowdfunding Campaigns Violate Army Policy, Service Says
© Copyright 2020 Military.com. All rights reserved. This material may not be published, broadcast, rewritten or redistributed.