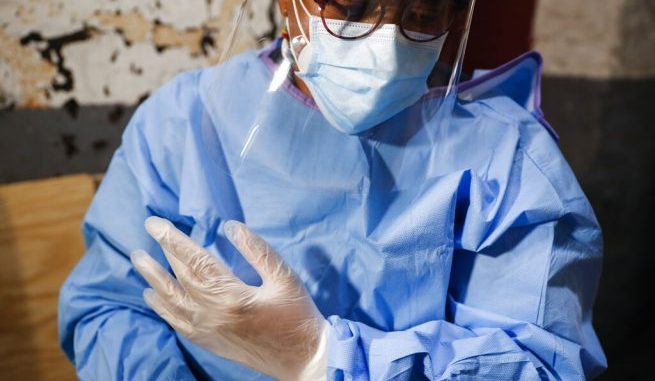 OAN Newsroom
UPDATED 1:20 PM PT — Wednesday, May 6, 2020
Tens of thousands of healthcare workers around the globe have reportedly tested positive for coronavirus. On Wednesday, the head of the International Council of Nurses (ICN) announced that COVID-19 has claimed the lives of more than 260 nurses and has infected roughly 90,000 health officials.
The group believes the estimated amount of infected workers are actually double their recorded numbers. According to the ICN, these numbers are partially due to scarce personal protective equipment and a lack of other resources at medical facilities.
"In the last few weeks, we have seen the reports of the deaths of nurses increase from 100 to more than 260. The figure for health care worker infections rises from 23,000 to, we think, more than 90,000. That is still an under-estimation because it is not every country in the world." – Howard Catton, CEO of the International Council of Nurses
ICN CEO @HowardCatton on #COVID19 90,000 #HealthCareWorkers infections & 260+ #nurse deaths: "If govts don't count the nurses who lost their lives it sends a message that their lives didn't count. This data will help the govts focus on what matters most: saving people's lives." pic.twitter.com/j3VWf3KaoK

— ICN (@ICNurses) May 6, 2020
Catton noted there is a chance that the 90,000 count could look more like 200,000, if one includes those countries that weren't originally counted.
According to the latest data from Johns Hopkins University, there are more than 3.7 million confirmed coronavirus cases worldwide. As of Wednesday, more than 259,000 people have died, while over 1.2 million have recovered.
Lockdowns are slowly being lifted around the world as countries work to safely reopen.
Experts have said several potential vaccines are going through human trials. However, they expect it could take upwards of a year and a half for one to be proven viable and become widely available.
WATCH: Acts Of Kindness From Health Care Workers Give Isolated Virus Patients Comfort And Hope