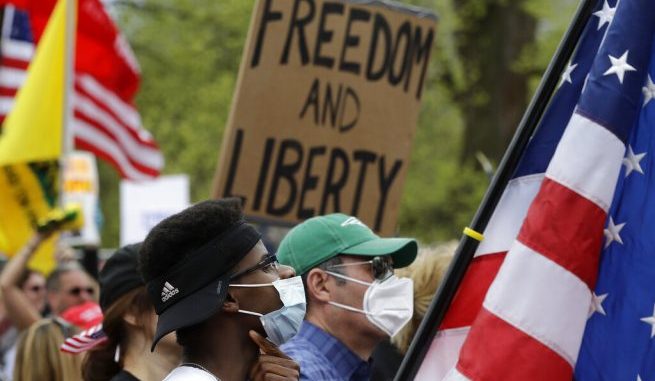 OAN Newsroom
UPDATED 9:08 AM PT — Tuesday, May 5, 2020
Hundreds of Massachusetts residents are protesting the state's lockdown. More than 500 protesters came together at the statehouse in Boston Monday, where they called on Gov. Charlie Baker (R) to reopen non-essential businesses.
Gov. Baker said he agrees with experts who say a downward trend in coronavirus cases and deaths are needed before the state can reopen. However, some residents believe it's unfair for bigger businesses to be open while some small businesses remain closed.
"Unless I'm a big corporation and unless I'm a big donor to these people, I can't open my business…I can't do what I wanna do," expressed one demonstrator. "I can't make my own decisions."
#BREAKING Protesters taking to the streets outside of the Massachusetts State House calling for the Governor to reopen the state, protesting the stay at home advisory. Some also appear to be protesting the mask mandate that takes effect on Wednesday #7News pic.twitter.com/hRHMopJlcB

— Mike Fahey (@michaelefahey) May 4, 2020
The governor said he's weeks away from announcing a reopening plan. His order closing down non-essential businesses is expected to expire on May 18.
"All of this misery, all of this economic devastation, all of these violations of our fundamentals rights and civil liberties — for what? For a lousy virus." — Unnamed Boston protester