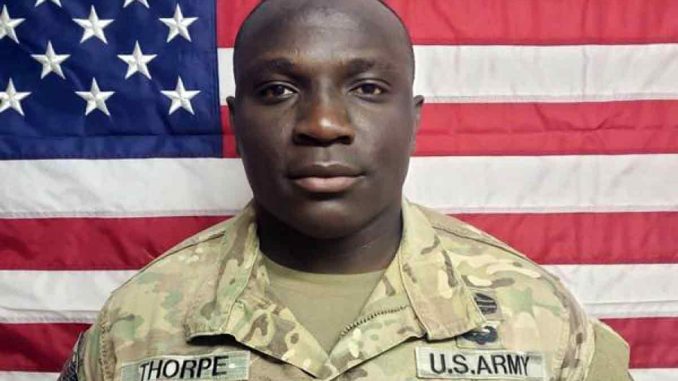 Police in Colorado Springs, Colo., shot and killed a Fort Carson noncommissioned officer almost two weeks ago after the soldier pointed a rifle at police through the basement window of his off-base home during a domestic disturbance call.
Sgt. Virgill Thorpe, a 28-year-old cavalry scout from Canton, Mass., was killed April 19 after police were called to his home in the 3200 block of Oak Creek Drive East in Colorado Springs at about 9:57 p.m. by a female caller who told them that the soldier was armed with a rifle, said Lt. James Sokolik, the public information officer for the Colorado Springs Police Department. The home is located about five miles from Fort Carson.
After Thorpe spoke with police outside the house, the Afghanistan War veteran ran back into the home. Through a window, one officer saw Thorpe go into the basement, where the caller was located, grab the rifle and point it at police.
"Four officers fired from outside the residence into the basement window," Sokolik said.
Thorpe was shot at least once and no one else was injured, Sokolik said. He was transported to a local hospital with serious injuries and later died from them.
The El Paso County Sheriff's Office, the county in which Colorado Springs is located, is now investigating the incident, including how many times Thorpe was shot. The four police officers involved were placed on administrative leave for six working days, according to Colorado Springs police. 
In his unit, Thorpe was known as a "tremendous leader and teammate," Col. Grant S. Fawcett, commander of 3rd Armored Brigade Combat Team, 4th Infantry Division, said in a statement. His "tragic passing is felt throughout the formation."
Thorpe, who enlisted in the Army in May 2012 and deployed to Afghanistan one year later, was eligible for promotion to staff sergeant at the time of his death and is expected to receive a posthumous promotion, said Brandy Gill, spokeswoman for Fort Carson.
He was born in Jamaica, but later lived in Kentucky and Massachusetts, according to his obituary. He married his wife, Kimberly Kay Thorpe of Colorado Springs, on Jan. 22, 2019. He had four children.
His Army awards and decorations include two Army Commendation Medals, five Army Achievement Medals, two Army Good Conduct Medals, a National Defense Service Medal, an Afghanistan Campaign Medal with Campaign Star, a Global War on Terrorism Expeditionary Medal, a Global War on Terrorism Service Medal, a Noncommissioned Officer Professional Development Ribbon, an Army Service Ribbon, a NATO Service medal, a Combat Action Badge, an Air Assault Badge, a Driver Mechanic Badge-Wheeled Vehicle and the Marksmanship Qualification Badge Expert-Rifle, according to his service record.
Fort Carson has about 24,000 soldiers and is the base for the 4th Infantry Division and the Army's World Class Athlete program. Its main post is about 140,000 acres in size with an additional 236,000 acre training site about 150 miles southeast of the base.
© Copyright 2020 Stars and Stripes. All rights reserved. This material may not be published, broadcast, rewritten or redistributed.