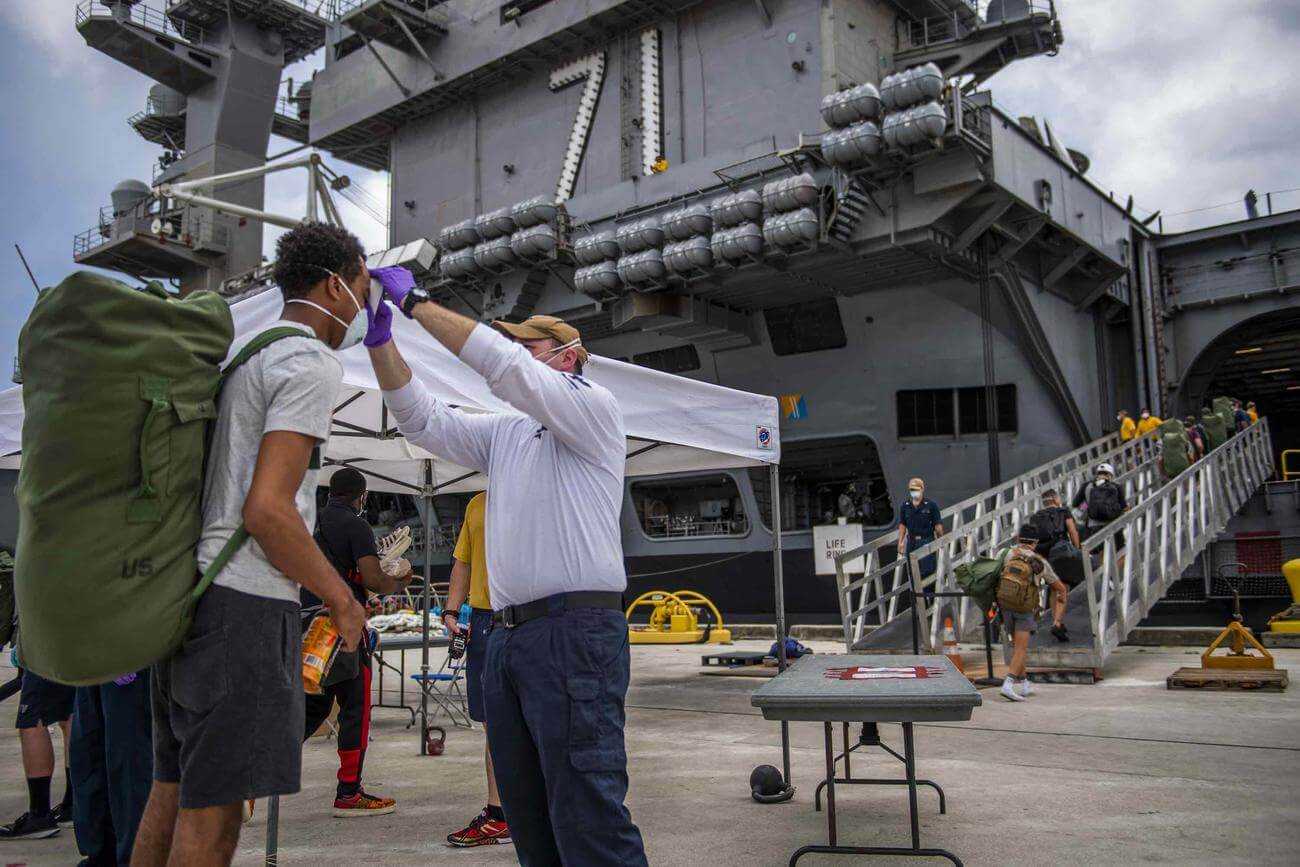 Capt. Brett Crozier won't be the only one whose career is on the line in the Navy's expanded investigation of a coronavirus outbreak aboard the carrier Theodore Roosevelt, a Pentagon official said Friday.
The renewed investigation ordered up Wednesday by acting Navy Secretary James McPherson was "not intended to be an inquiry about one officer and his actions," but rather would focus on decisions made "up and down the chain of command," said Pentagon chief spokesman Jonathan Hoffman.
The investigation, he said, would "look at the entire process" of actions taken once the first cases aboard the carrier were reported, and who was primarily responsible for decisions that led to an outbreak that sickened more than 1,000 sailors, and killed one.
Hoffman said the main question to be answered was, "how did we end up in a situation like this?"
Related: Navy Orders Deeper Investigation into Crozier Firing
Among Roosevelt's crew of roughly 4,800, about one-fifth have tested positive for COVID-19, and one has died of the disease: Aviation Ordnanceman Chief Petty Officer Charles Robert Thacker Jr., 41, of Fort Smith, Arkansas.
The virus began spreading aboard the carrier after a March 4-9 port visit to Danang in Vietnam, but Navy officials have since suggested that the virus may have originated from resupply flights to the Roosevelt.
In an April 15 statement to Stars & Stripes, Cmdr. Myers Vasquez, the Pacific Fleet spokesman, said that the port visit to Danang was approved after a risk analysis was conducted.
Following the analysis, Adm. John Aquilino, the Pacific Fleet commander, recommended that the port visit go ahead and Adm. Phil Davidson, commander of U.S. Indo-Pacific Command, approved, Vasquez said.
The Navy's first investigation focused on Crozier, the Roosevelt's commander, and an email he wrote pleading for help managing the virus outbreak as the carrier arrived in Guam.
Among the addressees of the email were Rear Adm. Stuart Baker, commander of the Roosevelt's carrier strike group; Aquilino; and Vice Adm. DeWolfe Miller, commander of Naval Air Forces.
The email was leaked to the San Francisco Chronicle, which broke the news about Crozier's plea.
"We are not at war," Crozier wrote. "Sailors do not need to die. If we do not act now, we are failing to properly take care of our most trusted asset — our sailors."
Then-acting Navy Secretary Thomas Modly removed Crozier as the Roosevelt's commander after the story broke, and then flew to Guam where he addressed the crew, saying Crozier had to be either "stupid" or "naïve" if he didn't realize his email would be leaked. Amid backlash, Modly ultimately apologized for his remarks and resigned.
The first investigation was conducted by Vice Chief of Naval Operations Adm. Robert Burke. Based on the results, Navy leaders recommended to Defense Secretary Mark Esper that Crozier be reinstated.
The expanded investigation "will build on the good work of the initial inquiry to provide a more fulsome understanding of the sequence of events" aboard the Roosevelt, McPherson said in a statement Wednesday.
— Richard Sisk can be reached at Richard.Sisk@Military.com.
Read More: Trump Authorizes Activation of More Troops to Fight Drug Trafficking
© Copyright 2020 Military.com. All rights reserved. This material may not be published, broadcast, rewritten or redistributed.