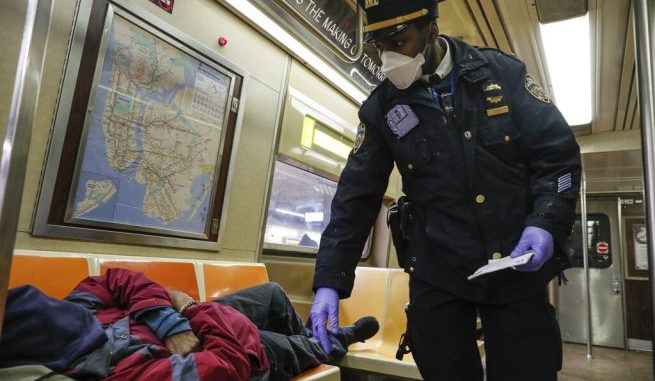 OAN Newsroom
UPDATED 5:10 PM PT — Friday, May 1, 2020
New York City's subway system will now close each day from 1 a.m to 5 a.m. This decision comes in light of the city's struggle with the number of homeless people, who have been sheltering on the subway system amid the coronavirus outbreak.
Closing our system for a limited time overnight will enable us to clean and disinfect every car, every night. And our new Essential Connector service will let us keep moving New York's heroes on the front lines.

— MTA. Stay Home. Stop the Spread. (@MTA) April 30, 2020
City officials have yet to respond to questions on how this new strategy will keep vagrants off the system long term. The situation has many New Yorkers concerned how they will return to daily commuting without a risk of reinfection.
State and city officials called on each other this week to do more to tackle the issue, which has been highlighted on social media in recent days. Online images have exacerbated fears about cleanliness in the subway system.
@seanhannity Mr Hannity I emailed your show last night, about the homeless situation on the NYC subway system I hope you will be able to show America what transit workers have to put up with on a daily basis. pic.twitter.com/NXyLqhj0op

— Mario Sorcigli (@mariomets) April 26, 2020
The Metropolitan Transportation Authority put out a statement, which called on Mayor Bill de Blasio to "get out of your car and into the subway so you can see what's really going on and solve the problem of your own making."
Some have suggested opening hotel rooms and other large spaces, which could serve as a safe place for those in need.
What needs to happen is simple: @NYCMayor and @NYGovCuomo need to offer people a safe place to go so they don't feel the subway is their only option. Misguided policing approach will only make this worse. @ClaytonGuse https://t.co/hun62a7jKT

— Giselle Routhier (@Giselle_Ashley) April 29, 2020
New York Governor Andrew Cuomo confirmed buses, vans and other alternative transportation will be provided at no charge for essential workers to get around while the subway system is closed. The MTA also recently announced a new code of conduct, which included forbidding anyone to remain in a station for more than an hour and banning wheeled carts.
The city has agreed to deploy additional police department resources system wide.
RELATED: N.Y. Gov. Cuomo: Subway Homeless Situation 'Disgusting, Disrespectful' To Essential Workers Who Commute